PADI GoPro Courses & Details
You really enjoy teaching, mentoring and want to make a difference training the future generation of scuba educators? 
Become a PADI IDC Staff Instructor, Master Instructor or even a PADI Course Director. We support you all the way!
PADI Divemaster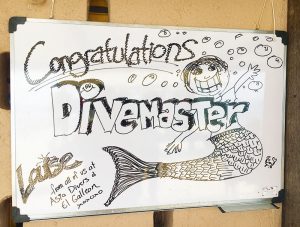 Be a leader who mentors and motivates others. Gain dive knowledge, supervision abilities, and become a role model to divers around the world.
You have several options to do this program with us. For example starting with eLearning beforehand or with a classic hardcover book.
With 40+ amazing scuba diving sites just a 10 min boat ride away, coupled with the diversity of sites from muck diving to wall, reef, wreck, deep, drift etc, you will be exposed to a great variety of diving conditions that contributes to make you one of the most well rounded Dive Pros. Our very experienced instructor team will help and mentor you throughout the training – and you will have a chance to experience different styles of teaching, guiding and customer care. This program takes about 1-2 months to complete realistically – and you can choose to stay on and do some "experience weeks" with us under Asia Diver guidance.
Since we are a PADI 5 Star Career Development Center, we are well aware of the IDC standards and expectations and will prepare you well in case you choose to continue on the become a PADI Instructor.
More info
PADI Instructor / OWSI – Open Water Scuba Instructor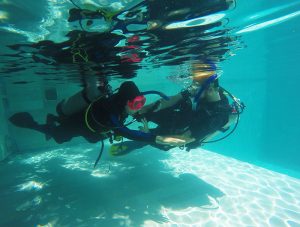 Are you ready to join the ranks of the dedicated professionals who teach the world's most progressive and popular scuba diver education programs? Then Go PRO with an Instructor Development Course.
The Instructor Development Course (IDC) is made up of two parts – the Assistant Instructor (AI) course and the Open Water Scuba Instructor (OWSI) program. Most dive professionals complete the entire IDC and go on to attend an Instructor Examination (IE), which is the final step to earn a PADI Instructor certification.
Prerequisites are being a PADI Divemaster who has been a certified diver for six months, 100 dives to attend an IE and a medical statement signed by a physician within the last 12 months.
You also need to be an Emergency First Response Instructor, but you can earn this rating during your instructor training.
The PADI Instructor Development Course "IDC" with Asia Divers is split into two components: the IDC Online eLearning and a 10 days onsite course here in Puerto Galera. This includes the EFRI course. You can start the online component any time and we are running the 10 days onsite IDC every 2 months, coupled with the PADI Exams right after.
Our IDCs are very quality and marine conservation oriented programs utilizing modern teaching techniques outside and in the water. Be prepared to teach all skills in neutral buoyancy to protect the marine environment and create much better divers throughout your career.
Start E-learning Now!
Reserve Your Space
Emergency First Response (EFR) Instructor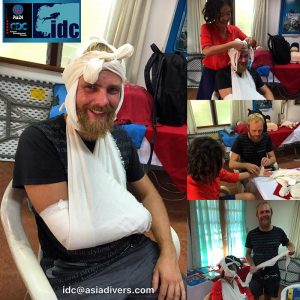 The EFR Instructor rating is a pre-requisite to the PADI IDC and we are conducting this course every 2 months as the first 2 days of our IDC or also upon request. Teaching people how to confidently help others in case of an emergency is a very rewarding experience and makes our own space safer. "Creating Confidence to Care" is the key slogan throughout this course – and we will discuss different ways how you can structure the course as well as how to make this a fun and rewarding experience for your students.
In preparation for the IDC you also learn how to provide feedback and positive encouragement to all participants, moving into the psychology of teaching.
GoPro Now!
Specialty Instructor Courses
Unless you speak 5 languages, specialties are the best way for you to increase your value to your dive center / in the market.
Choose specialties that are common in your area, you are passionate about and also perhaps some that set you apart.
There are many specialties to choose from, such as: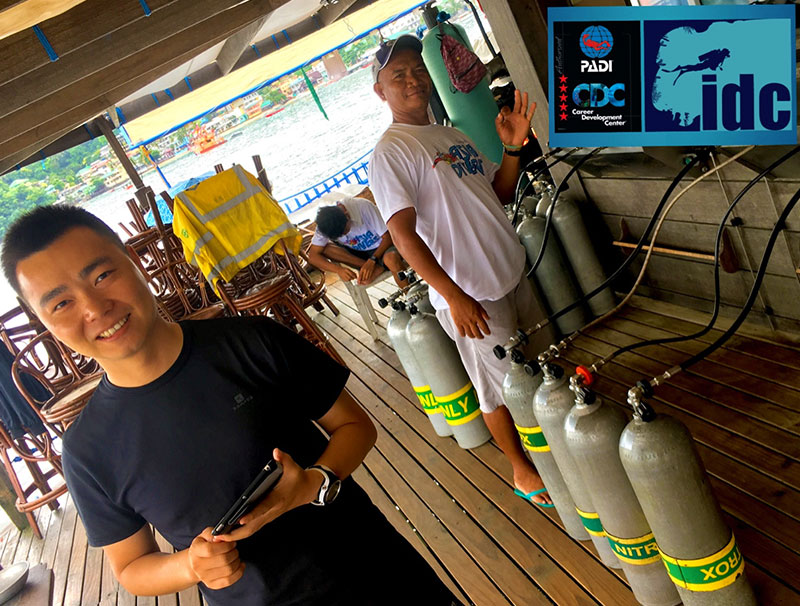 Enriched Air Nitrox (EAN)
Often a pre-requisite in job postings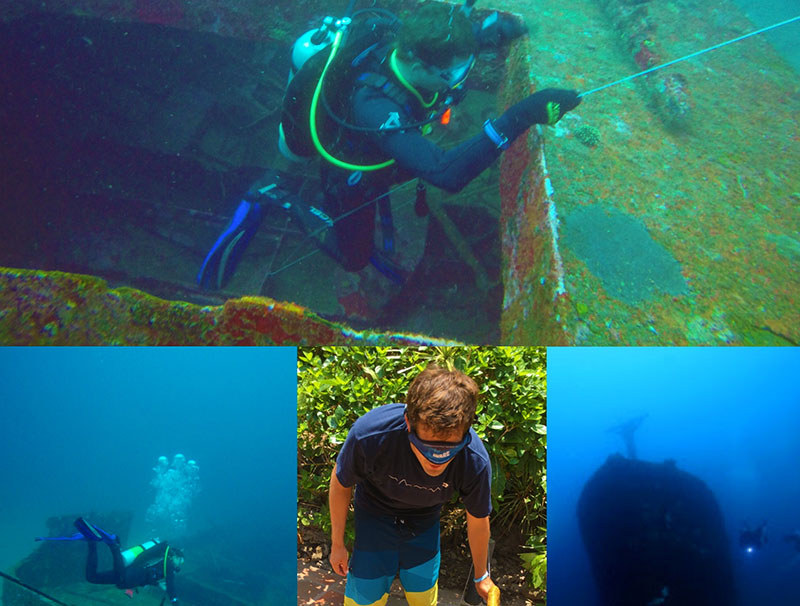 Deep, Wreck and Drift Diver
Very useful for an area such as Puerto Galera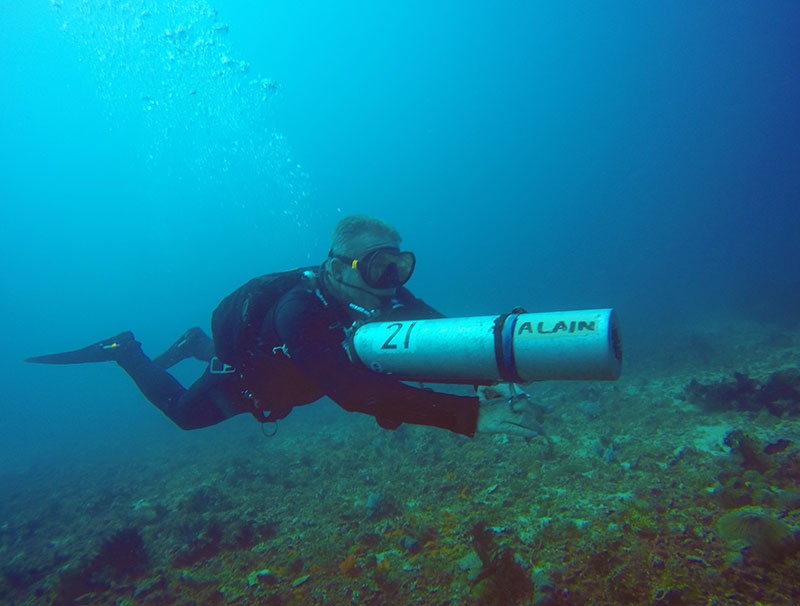 Sidemount, Gas Blender, Equipment Specialist
Give yourself a competitive edge.
Below are some of the specialty instructor courses we teach – but drop us a line to ask for your favorite. We also offer courses in compressor operation/ tank filling and resort management.
AWARE Dive Against Debris
Aware Shark Conservation
AWARE Seaturtle Awareness
Boat Diver
Deep
Delayed Surface Marker Buoy
Digital UW Photography
Diver Propulsion Vehicle
Drift Diver
Emergency Oxygen Provider
Enriched Air Nitrox
Night Diver
Search & Recovery
Self Reliant Diver
Sidemount
Tec Rec Gas Blender
Underwater Naturalist
Underwater Navigator
Underwater Videographer
Wreck Diver
Tec Deep Instructor
Master Scuba Diver Trainer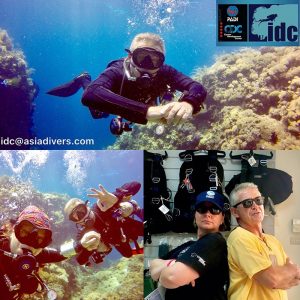 Qualify as a PADI 'Master Scuba Diver Trainer' and put more variety into your teaching, increasing your employability by enrolling in this program immediately after the PADI Instructor Exam and gaining practical experience and certifications. Stand out from the crowd and get the 'head start' to your career with your 'Masters' in scuba instruction!
Since our dive sites here in Puerto Galera are very diverse, we offer a great variety of specialty instructor courses as well as opportunities for technical diving.
MSDT package