Amenities
Arthur's Resturant
Our restaurant is open from 6:30am to 10:00pm. The restaurant is there for you. We have a daily special as an addition to the menu. Do checkout the menu cards each day, Please feel free to request anything you like that is not on the menu and we will do our best to provide it for you.
The Point Bar
After a hard day's scuba diving, swimming, sailing, hiking or browsing in Puerto Galera, there's really no better place to unwind. And that, dear reader, is exactly The Point
Walking between Sabang and Small Lalaguna Beach, you can't fail to miss The Point bar. In fact, many visitors to Puerto Galera, once they've found The Point bar, find it hard to escape.
So what is The Point bar? To call it simply a bar is understating its potential. While not really a restaurant either, it is actually a part of the excellent El Galleon Beach Resort and therefore serves the same sumptuous menu on offer at the beach resort. It's not a nightclub either, although the amount of hard liquor consumed in the form of SHOOTERS, a house specialty, is often staggering, which for the phrase 'often staggering' could also be suggested to many of the patrons after a long night at The Point bar.
The perfect place to relax where the main host, Allan Nash, popular PADI Course Director and Asia Divers Entrepreneur, has created a truly unique entertainment concept at The Point bar, one which packs them in night after night.
The Point Bar is at once sophisticated yet simple, a center of entertainment and relaxation. On a recent visit, we found two Hong Kong Lawyers, a senior Lufthansa executive and his family, a Banker, three yacht owners, a variety of tourists of all nationalities and a gaggle of SCUBA diving instructors from several different local dive centers mixing it up. Its easy to make friends at The Point.
Dive Shop
Asia Divers and Tech Asia are the two dive shops available for you as part of El Galleon Resort. Both are open from 7am everyday
Asia Divers at the end of the pier under the Point bar, offer at least five scheduled dives as day, usual times are *:00am, 10:30am, 11:30am, 4:00pm and 6:00pm(night) with a choice of sites at each time. Diving on air or nitrox is available, with training from Bubblemaker (for kids) right through to instructor level.
Tech Asia is just 2minutes walk along the beach and offers Technical Diving, Tech Asia is a division of Asia Divers and provides quality training and support for Technical Diving at all levels. Whether you're lookingfor the basics of Nitrox diving, Rebreathers, Full trimix, Gas Blendes or Instructor Programs, It's all there.
Swimming Pool
The swimming pool is located beside our poolside cottages, you can even look out of your room windows, watching some swimming activities. El Galleon cottages afford the peace and tranquillity of private rooms, nestled amongst palm trees and warm breezes with the crystal clear waters of the Philippine Sea only a stone's throw away.
La Palm Spa
Time to escape from the stress and tension of your daily life: come and enjoy this truly effective, full body massage. Our masseuse will make you feel more relaxed than you have felt in ages. A variety of different massages are available, such as Aromatherapy, Thai and Swedish body massage and many more.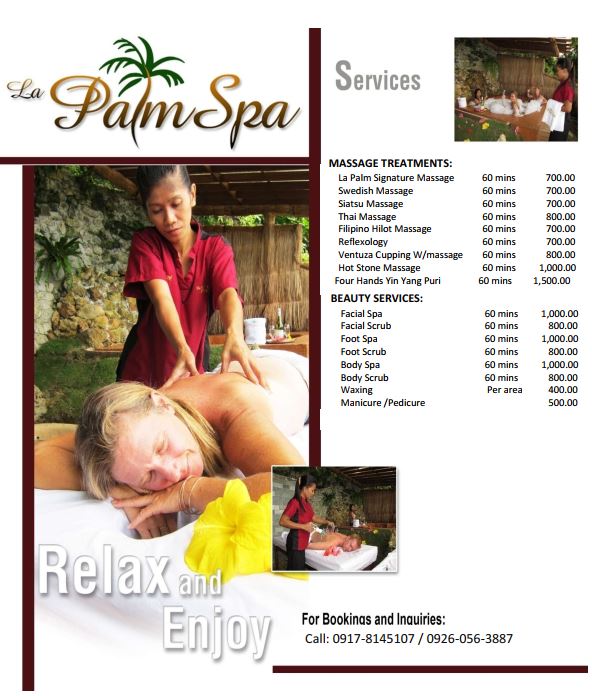 The Barrel Bar
Our newest addition to the resort is our Barrel bar. It's located right out on the water on our private deck. A beautiful place to catch the sunset and enjoy the light breeze along with your favorite cocktail!
Conference Room
Situated above the restaurant, the El Galleon conference room is the perfect place to combine business and pleasure. The conference room has seating for 25 people, fully air-conditioned, with TV/Video & whiteboard.