Underwater Photography Club
All photos featured in this gallery were taken here in Puerto Galera by our guests at Asia Divers and El Galleon Beach Resort.
You can see why Puerto Galera is widely regarded as a photographer's paradise!
Photographer Profile: Beth Watson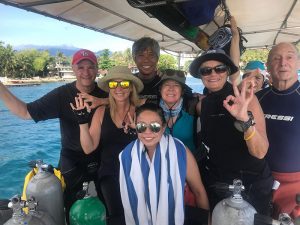 Beth Watson began diving in 2000, she lives in the US in the small town of Salem, Missouri, nowhere near the ocean. Fortunately, she is able to dive a few weeks each year, and has traveled to many amazing diving destinations around the world. Among her favorites are the Caribbean, Central America, The Caymans, Indonesia, and the Philippines.
Absolutely loving the ocean and everything it has to offer, she focuses on capturing images that are unique, impactful and that convey emotions to the viewer. She is fascinated by it all, enjoying the challenges of photographing wide angle reefs and wrecks, but also has an deep adoration for the smallest critters in the sea.
Always striving for perfection, Beth continues to learn new techniques, experiments with different lenses, exposures and lighting, trying to produce beautiful, dramatic and creative images.
Beth attributes a great deal of her passion for underwater photography to the people around her. Their encouragement and advice has been an inspiration.
She has won several awards and competitions in recent years. Receiving the Kodak Gallery Award in 2011, winning Asia Divers and Island Dreams 25th Anniversary Photo Contests in 2012 and being a finalist in UnderwaterPhotography.com's annual contest have been highlights. Her images have been featured in newsletters, papers, websites, and have been selected for juried art exhibitions.
Many of the photos featured on our website were taken by Beth, and we are very grateful for being able to use them.
For more information and to see her work visit Beth's web site or you can find her on Facebook.