About Puerto Galera
Voted one of the most beautiful bays in the world
Asia Divers Media Gallery
Spectacular Scenery
Voted one of the most beautiful bays in the world
Arthur's Restaurant 360° View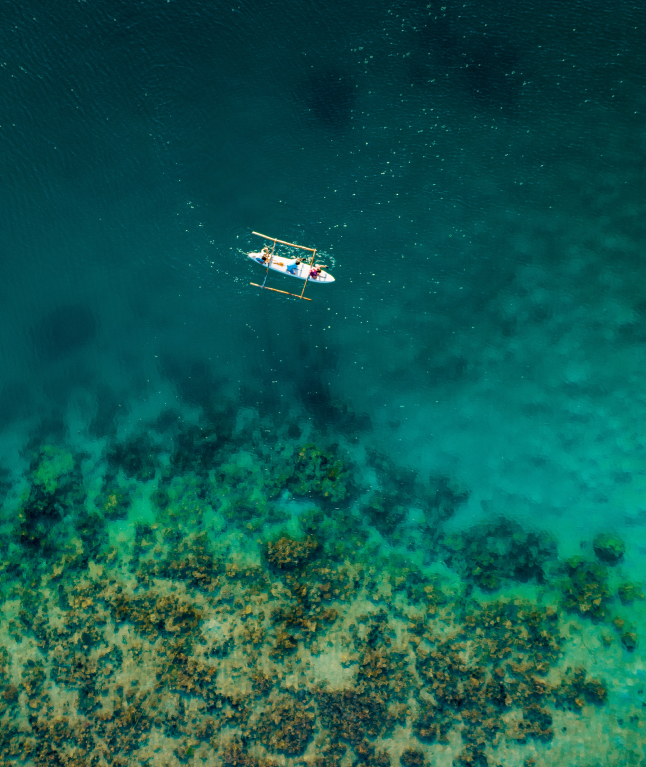 AsiaDivers Puerto galera
Welcome to the Pearl of Mindoro
In the late 70's backpackers began to explore the island of Mindoro, the third largest island in the Philippines.
Like many places that have not been visited by tourists, little to no accommodation was available. Rumor has it that the first backpackers arriving in Puerto Galera had to, like in many other places around the Philippines, sleep and eat with the locals.
It was not long before the news got out about this magnificent place called Puerto Galera. A place of peace and natural beauty.
Experience Magnificent Natural Beauty
The Puerto Galera harbor is breathtaking with lots of small coves within the bay, turquois water, magnificent mangrove areas, small sandy beaches and hillsides covered with coconut trees makes this an wonderful setting for any explorer, naturalist and nature lover. The bay has its own island, Medio Island that separates the north (Manila Channel) and southwest (Batangas Channel) channels. The Puerto Galera bay sometimes know as the Port Of Galleons, was indeed a place the Spanish galleons and Chinese traders would hide from typhoons and use its banks, mostly Dalaruan for ship repairs. Today Dalatuan in still used to repair wooden boats.
This coastal town is well known among tourists for its numerous pocket beaches and many snorkeling and scuba diving spots. The area was designated a Man and Biosphere Reserve of UNESCO in 1973 and has some of the most diverse coral reef diving in Asia. The marine environment has benefited in recent years from the influx of tourist dollars. This has seen a huge reduction in the number of fishermen in the area, as they gain higher revenue from tourists.
Puerto Galera is listed by the Club of the Most Beautiful Bays of the World, and is the only bay in the Philippines to be listed there.
Puerto Galera has something for everyone!
Among the famous beaches in Puerto Galera are Sabang Beach and White Beach, which have an active nightlife with numerous bars and restaurants. Both beaches also have an array of first-class and economy-class accommodations.
Sabang beach is the main destination for foreign tourists, while White Beach remains popular with local travelers. Big La Laguna Beach and Small La Laguna Beach are considered part of Sabang with resorts lining the beaches. Big La Laguna Beach is popular for local swimmers and snorkelers. Since 2001 White beach has seen uncontrolled development. New restaurants and places to stay are rapidly encroaching on the beach itself and little remains of the once charming beach.
Puerto Galera town is a pleasant but sleepy Philippine town with few attractions. It has a large central catholic church and a Pier area, with a selection of bistros and cafes. Recently there is now an adventure park with buggies, go-carts, shooting range and more.
Behind the beaches are the huge and generally unexplored mountain ranges of central Mindoro. A particular local attraction is the nine hole golf course with its new zipline, perched on the hillside above White Beach which commands spectacular views over Puerto Galera's natural harbor and the Verde Island Passage.
Mangyan tribes are scattered over the mountain sides – some of the more remote tribes have virtually no contact with the outside world. Of the eight tribes on Mindoro, the Iraya are the largest. They are based in the Puerto Galera area.
Puerto Galera is among the top diving destination in the Philippines. Excellent diving is found less than 5 minutes from the beach here.
Whatever you decide on there is one thing you will need to do when in Puerto Galera and that is to explore. You will find resorts, accommodation all around Puerto Galera these days and you will find some small coves, beaches that are uninhabited, making this place a place to admire for its natural beauty.