Mermaid Experience and Programs
The PADI Mermaid Program provides water enthusiasts an additional outlet for exploring their underwater passion. Although the mermaid experience shares techniques and equipment used in scuba and freediving, 'mermaiding' is its own form of diving. The PADI Mermaid Program is designed for non-divers and divers alike, as you don't need any prior knowledge to enroll.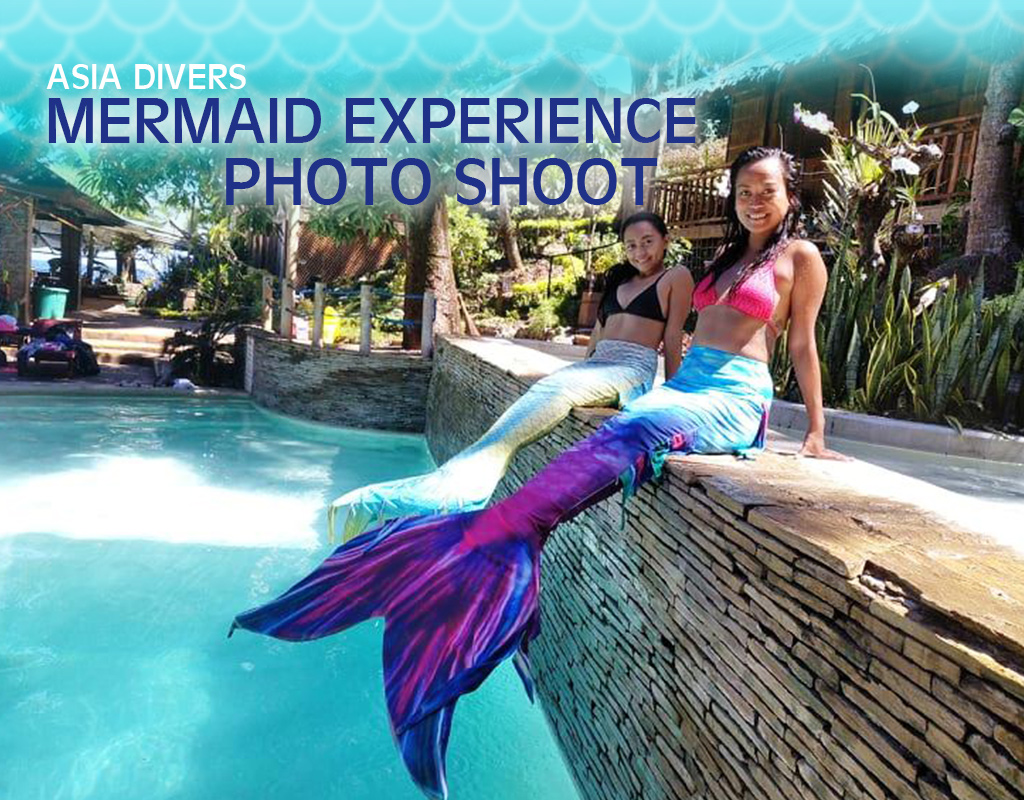 Mermaid Experience Photo Shoot
Minimum Age: any age
Duration: 2 Hours
Prerequisites: Just a desire to have fun.
Description: This is a fun "land experience" only,  spent getting some nice glamorous photos of you all splashed up in one of our gorgeous mermaid tails. Options also include professional make up artist and/or professional photographer. This experience will be under the direction of our of our team to assist you the whole time.
2 hours Photo shoot with cell phone only at El Galleon Resort. Includes photos on land only, at swimming pool area and dive platform with resident mermaid to assist you and take photos.
Cost P2500
Optional Add ons:
Must be pre-booked
1. Professional make up artist P500
2. Professional photographer P3000 for two hour photo shoot on land only (unedited digital photos to be given to you though Dropbox or similar) . If  you want editing done we will work out pricing for that with the photographer.
B. Swimming pool add-on package. (to be added onto the basic package)
1 hour Photo shoot with with 
instructor
 using either go-pro or your own underwater camera that our 
instructor
 will use. This is done only in the shallow end of the swimming pool.
Cost P1000
Please note that the above are not  training programs, they are only photo shoots. If you want to be trained under the PADI Mermaid program please see details below.
PADI Mermaid Programs
Minimum of 2 and max 4 participants are required to do the courses below.  Certification will depend on meeting performance requirements.
All participants will need be supplied with mask, fins, snorkels and mermaid tails for the training.
The PADI Mermaid program consists of four student-level ratings:
Minimum Age: 6 yrs old.
Duration:  1-2 hours swimming pool
Prerequisites: none
Price: $ 126.00
Description: Learn the basics of becoming a mermaid in this intro which includes briefing and shallow water pool session
Basic Mermaid Diver
Minimum Age: 6 yrs old.
Duration: 1-2 hours swimming pool
Prerequisites: ability to swim at least 25m and float comfortably at the surface for at least 3 minutes
Price: $ 226.00
Description: Basic Mermaid is in total about half a day course which includes knowledge development and one confined water session in our swimming pool.
Mermaid Diver
Minimum Age:  10 yrs old.
Duration: 1-2hours swimming pool
Prerequisites: ability to swim at least 50 m and float comfortably on the surface for 5 minutes
Price: $ 376.00
Description: PADI Mermaid is 1-1.5 days (which includes the Basic Mermaid). This includes knowledge development and two confined water sessions in our swimming pool.
Advanced Mermaid Diver
Minimum Age:  12 yrs old.
Duration:  3-4 Days
Prerequisites: ability to swim at least 100 m and float comfortably on the surface for at least 10 minutes
Price: $ 526.00
Description: The Advanced Mermaid Program includes knowledge development and two confined water sessions and two open water sessions