The founders of Asia Divers had been one of the first to operate in Puerto Galera since the golden age of scuba diving in Mindoro – this was 30 years ago when the cove was exclusively an advanced divers' playground.
Today, Asia Divers' PADI diving courses welcome everyone from all backgrounds, skills, and ages to come and enjoy a piece of Puerto Galera's incredible marine biodiversity and beautiful coastlines. We have prepared dozens of courses that will fit your needs – from absolute beginner to pro-diver looking to develop your career in the diving industry.
This article will cover the majority of diving courses that we offer, in which students are all under the supervision and training of Certified PADI Instructors.
Beginner Courses – Getting In The Water
A great part of scuba diving is trust. You must trust your instructors and follow their leadership; you must trust your equipment after you've checked it, but most importantly, you must trust yourself that you can operate the equipment properly and make low-risk decisions throughout the session.
Valuable lessons can be learned even as a beginner in the PADI Recreational Courses.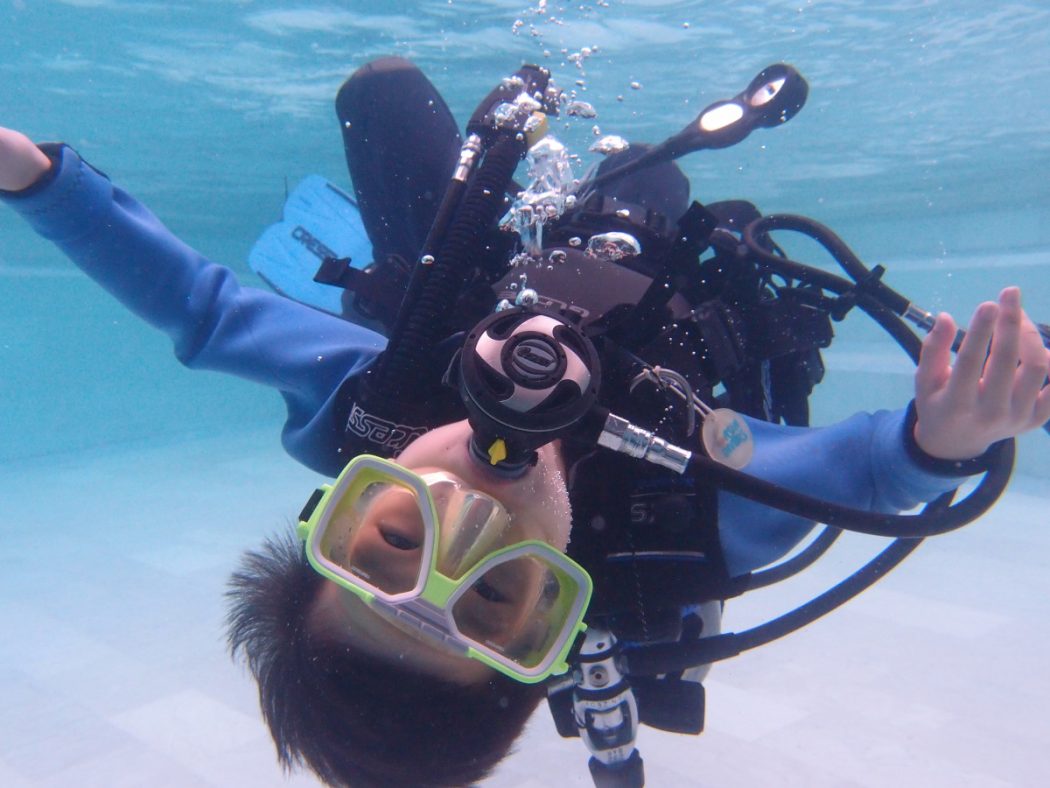 PADI Skin Diver
For children 8 years and above, the Skin Diver course is valuable to build trust and comfort with the underwater environment – think about the time when you first became confident enough to free dive in the deeper part of the swimming pool.
PADI Bubble Maker
Bubble Maker is the course where your child can become accustomed to the diving gear and breathing underwater. This early training is excellent to develop interest in scuba diving later on.
Book PADI Skin Diver and PADI Bubble Maker here.
PADI Discover Scuba Diving
Discover Scuba Diving is for those who have always wanted to try scuba diving at least once in their lives, but aren't sure about making a commitment to the full PADI Open Water course with a globally-recognized certificate.
PADI Scuba Diver
Another option is to take the PADI Scuba Diver course, which is part of the full PADI Open Water training. If you do well in this 2-day course, at the dive instructor's discretion, you may credit (upgrade) this towards full certification later on.
Book PADI Discover Scuba Diving and PADI Scuba Diver here.
PADI Open Water Diver
Get your scuba diving certification with the PADI Open Water Diver course – the world's most popular and widely recognized scuba course. Millions of people have learned to scuba dive and gone on to discover the wonders of the aquatic world through this course.
Book PADI Open Water Diver here.
Advanced Courses – For Serious Diving Business
The college equivalent to the PADI Open Water Diver course is the PADI Adventure Diver course. Learn skills in greater depth. You can opt for several course variations in this particular certification – from Rescue Diver and Emergency Transponders to becoming a Divemaster (minimum age of 18 years).
Book PADI Adventure Diver here.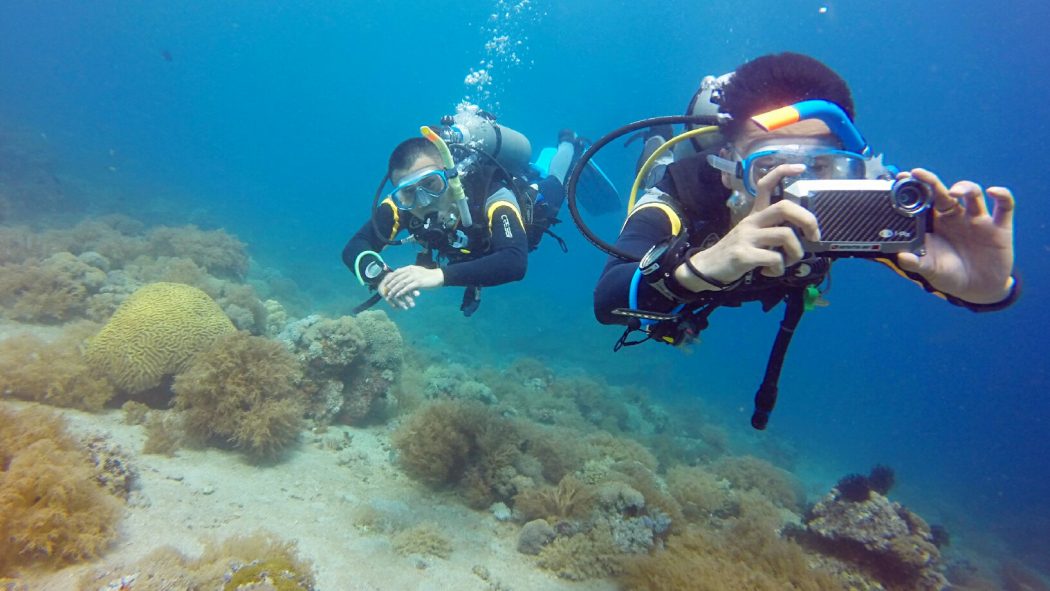 When your roots are solid, and you want to train for specialized styles of diving, you can do so with the PADI Specialty Courses as listed below:
Intro to Nitrox
Enriched Air Nitrox
Peak Performance Buoyancy Diver
Surface Marker Buoy Diver
Drift Diver
Deep Diver
Naturalist Diver
Dive Against Debris
Equipment Specialist
Multilevel Diver
PADI Digital Underwater Photography
PADI Night Diving
PADI Navigation Diver
Why Us?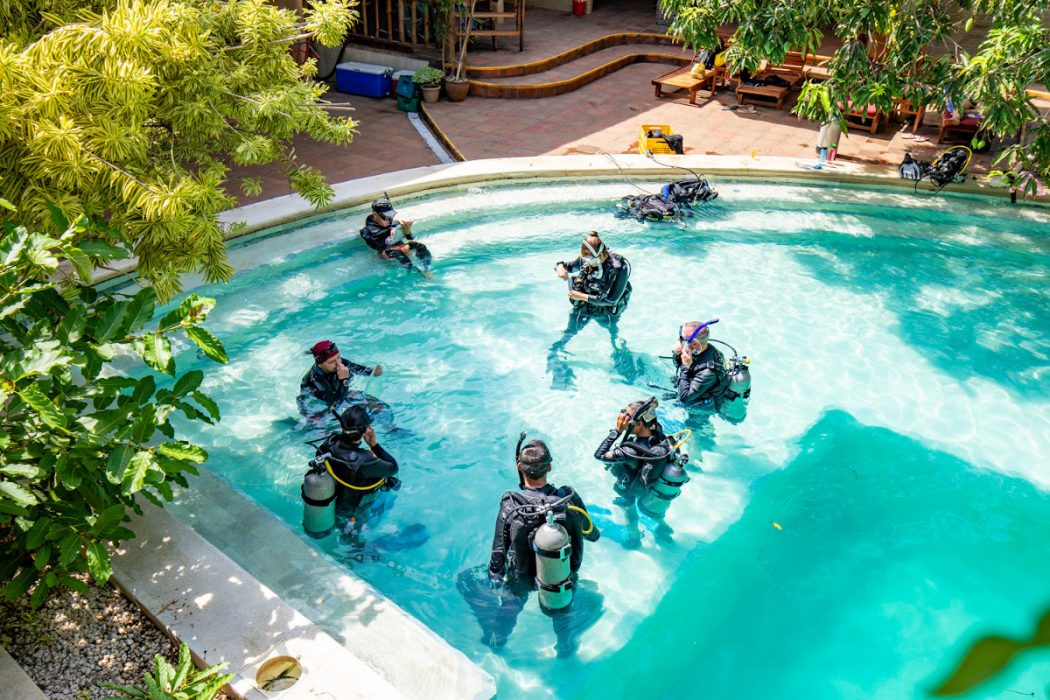 Our principle is to provide comfortable and quality training. Our on-land training facility is spacious and modern. We have a private pier to allow safe passage between boat and land. We own a dedicated photography room and rinse tank for photographers.
In addition, our training is rigorous and complete, with no shortcuts. Our small-group classes ensure that proper attention is given to each student. A language barrier will not be a problem as we have instructors who speak English, Tagalog, German, Swedish, Mandarin, and Cantonese.
Completeness of training is the key to success, and we want to ensure that our students receive the best diving education to further their careers, in addition to the fun experience of exploring the underwater world.