Asia divers Excursion is a package trip made to gather different people from different parts of the world to come and experience the beauty of Puerto Galera.
This package allows you to dive in world-class diving spots and experience one of the most diverse marine life on earth. Whether you are an experienced scuba diver or not, as long as the underwater world interests you, then this package is the perfect gift to give to yourself. This is open for both certified scuba divers and those with no experience at all. For the latter, we will be facilitating an intro course (discover scuba).
Puerto Galera sits right in the heart of the verde island passage. It is dense with marine life and coral species. Equal to the beauty that lays beneath the ocean are the white-sand beaches and majestic waterfalls.
On one of the days we will take you to Tukuran which has multiple small waterfalls and pools to swim in. Our staff will prepare a scrumptious lunch while you relax, unwind and enjoy some icy cold beers. The trip will also include a sunset cruise where we take you to a beach where you can enjoy activities such as snorkeling and swimming. You will be served beers and pizza as you create meaningful connections and share blissful conversations and memories with fellow excursion participants. Just before sunset everyone will board the boat cruise in the ocean, drink some more and watch the sun as it sets. Allow us to give you an experience of a lifetime.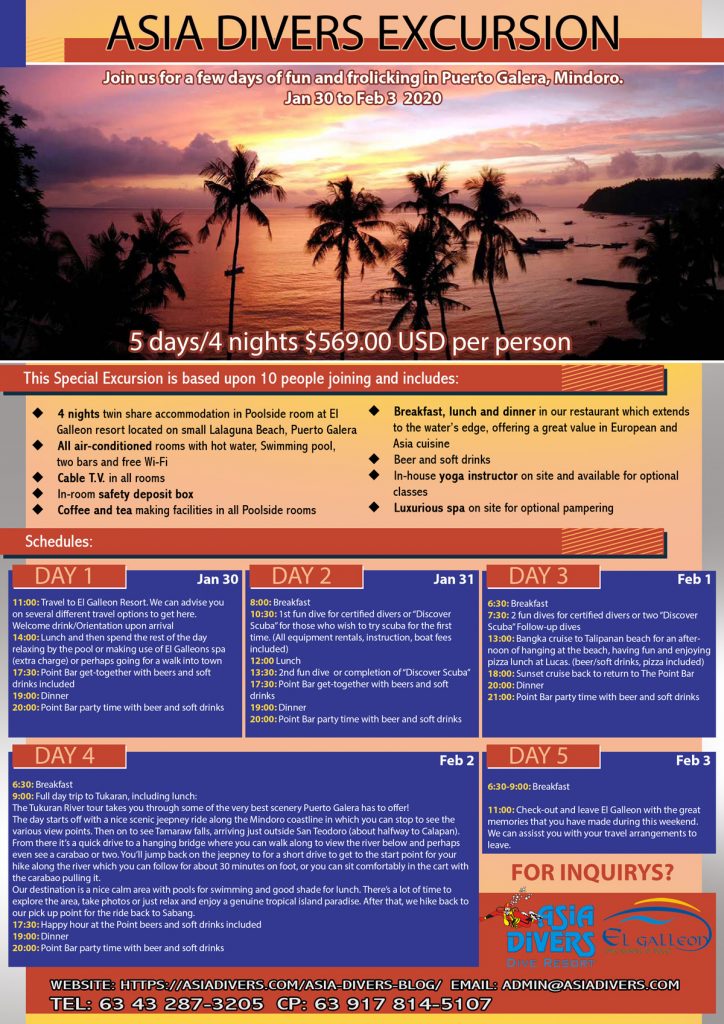 SIGN-UP