Spectacular sunsets, turquoise waters, and lots of fun for the kids right here in our beachfront! The resort sits on the largest beachfront property in Small Lalaguna beach, and the waters in front of the resort are excellent for swimming and snorkeling.
We are only 3 hours away from Manila, and we offer private transfers that can drop you off directly here in the resort. Only a booking confirmation and tourist QR code are required to enter Puerto Galera. So…what are you waiting for?! email:admin@asiadivers.com
What's been happening
Tina has got back into mermaid mode since she arrived here last week. A refresher course got her going so that she could spend the rest of the week happily submerged.  Her last dive for this trip was with Arthur and Rene.
Want to give it a go?! After a short briefing you'll get comfortable with the gear and the basics of diving in the comfort and safety of our training pool under the watchful eye of an experienced Instructor. You'll then enjoy a great dive at one of Puerto Galera's unrivaled sites, your Instructor will never be far away as you're introduced to a wonderful new world. Check out the PADI Discover Scuba program: https://asiadivers.com/padi-diving-courses-philippines/padi-recreational-scuba-diving-courses/ and contact us for a dip in the ocean.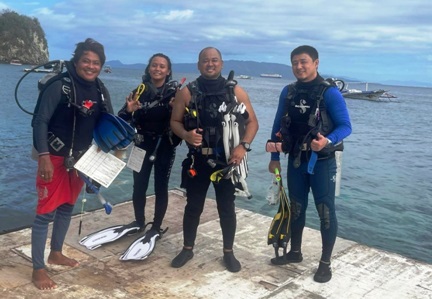 It's been great to have Pedro Magsino back on the Asia Divers dive platform these past few days. He's been busy with an IDC here. Looking to become a PADI instructor? checkout all the details on how to do it with our awesome team: https://asiadivers.com/gopro/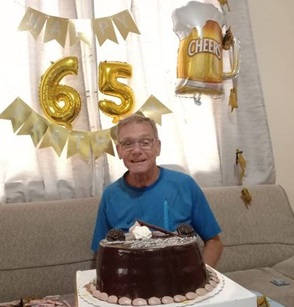 Happy 65th to Tommy! Hope the next year is full of many great adventures for you…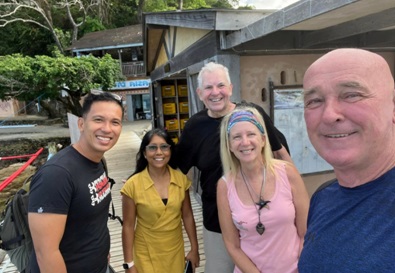 A very long time friend of Allan's, Steve Smith was here for a visit along with Rey Villarama. Allan has known Steve from his previous life back in Hong Kong, but have remained friends ever since. It's always such a wonderful thing to have our long time  friends visit us here. Enjoy the rest of your time together in the Philippines.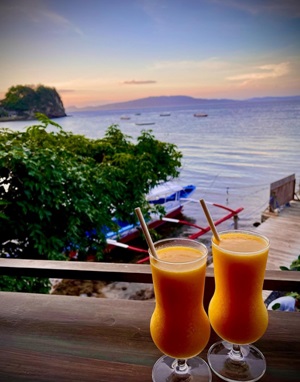 Thanks to Sarah McLeod for this gorgeous photo from the Point Bar. Best place in the world to enjoy happy hour!
Delicious  times!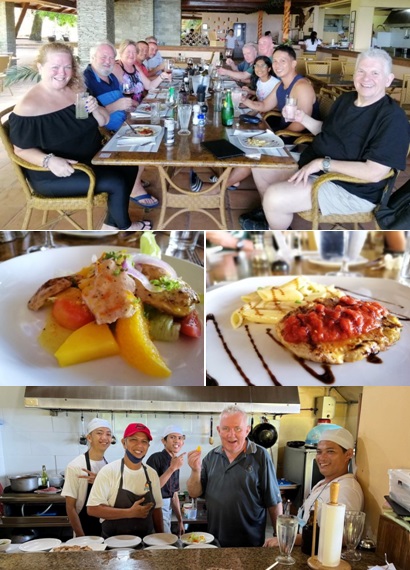 What a delicious afternoon spent with friends. Allan hosted an a special lunch at El Galleon with chef Mark Biddle who created and supervised  this 6 course long lunch along with our El Galleon team. Mark is an accomplished chef with forty years of extensive culinary, kitchen management and menu planning experience gained all over the world. You can only imagine what a culinary experience this was!
What's new at Ocean Dive Supply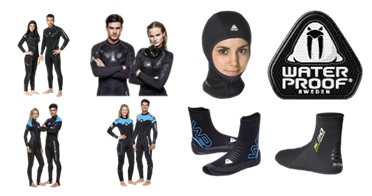 New arrival of wetsuit, hood and boots from Waterproof Diving International. With all the delivery problems and delays we are happy to see our stock of below being topped up again.
https://divesupply.com.ph/en/blog/viewpost/105/waterproof-new-arrival