By Andy Xie
The "Canyons" is a dive site located in the northeast of Puerto Galera, a place dubbed as the Pearl of Mindoro in the Philippines. With spectacular underwater formations, large sea fans, schools of batfish, jackfish, large Groupers, and hair raising currents, Canyons became a preferred site for experienced divers.
In June 1981, Neil "Snake" Krumbeck, who was certified as an open water diver at that time, discovered the Canyons while exploring the dive sites. In 2012, CNN rated it as one of the "50 most beautiful dive sites in the world".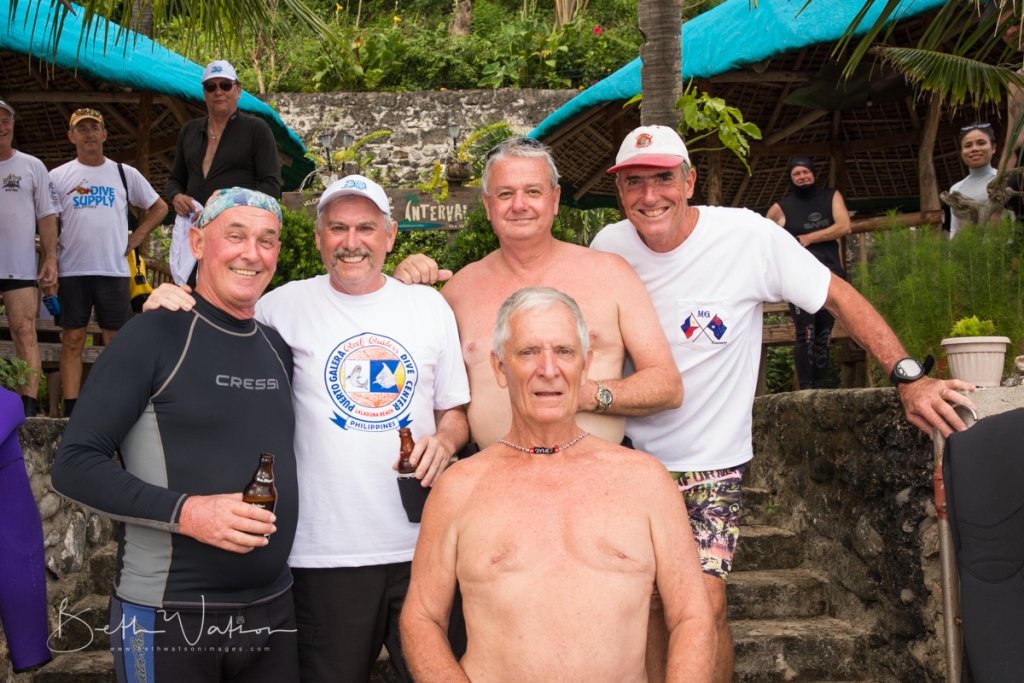 In 1986, Snake Krumbeck, Willy Tobler, and Jim Wilson completed the first deep dive on air outside the Canyons to 76 meters. Then Allan Nash and Dave Penman achieved a record of 91 meters on air in the same area.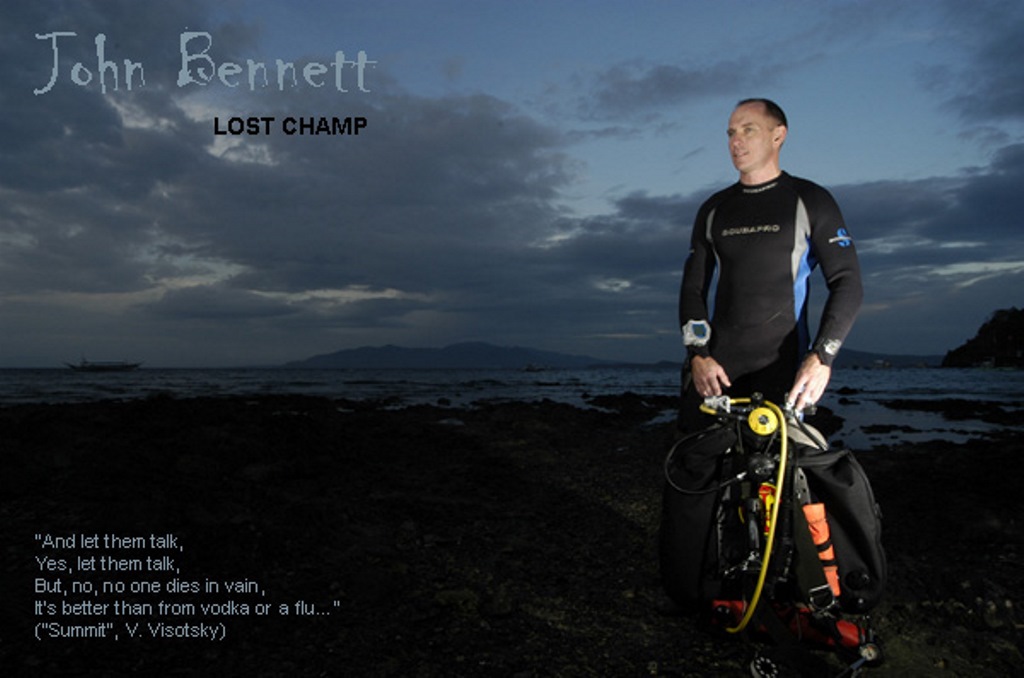 In 1997, John Bennett and Aaron Gillespie using Trimix 12/45 accomplished a 122-meter dive and set the record for deep dive in southeast Asia.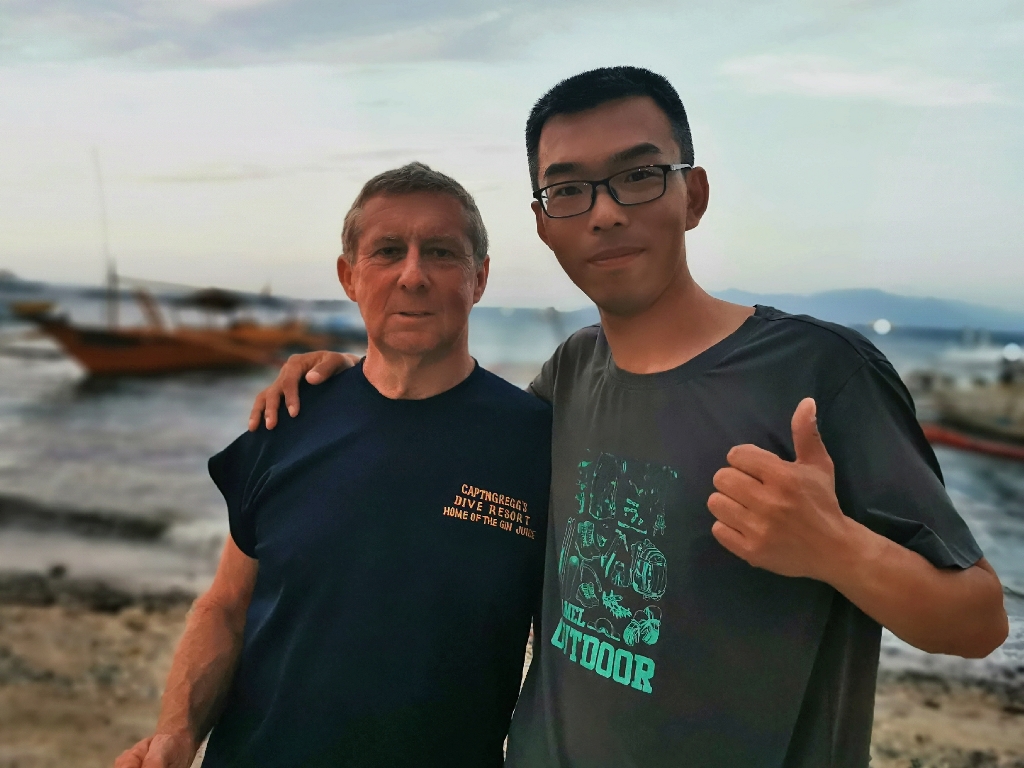 In June 1999, John Bennett and Chuck Driver dived with Trimix 6/79 to 200 meters, and set the world record for untethered open water diving at that time. In the same year, they again successfully updated the record to 225 meters.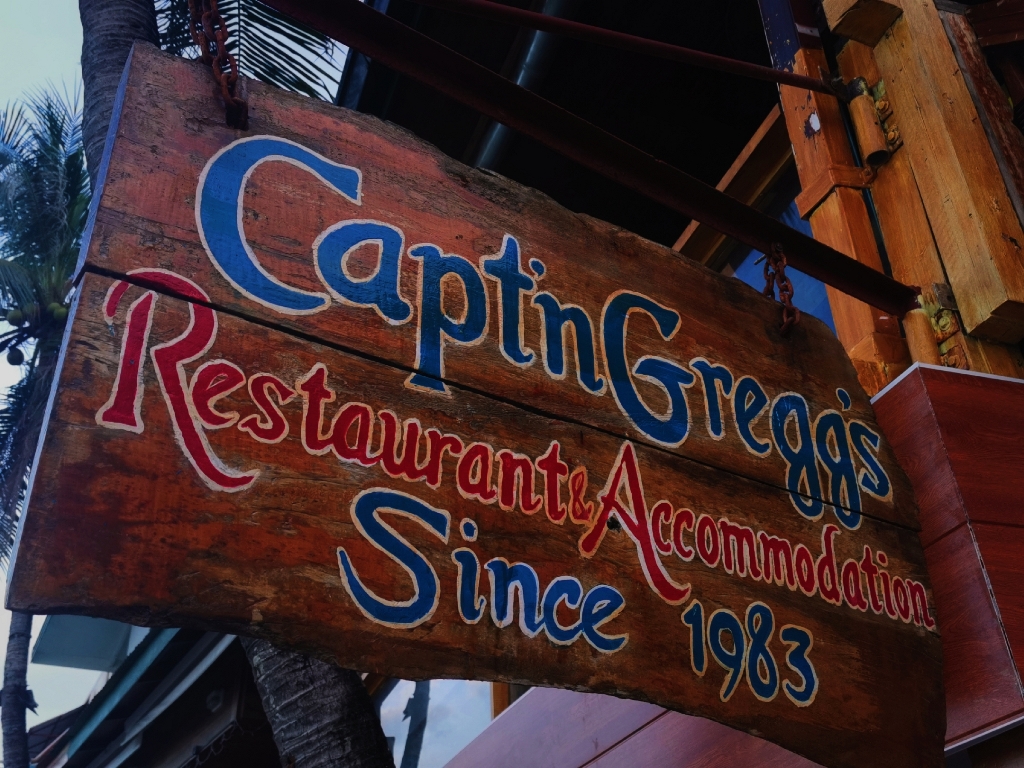 In 1999, a deep air record attempt was made: Mark Andrews diving out of Capt'n Gregg's reached 156 meters on air. However, the record was unrecognized, since when he reached the bottom, he was almost unconscious due to gas narcosis. His deep-water support divers Chuck Driver and John Bennett (on Trimix) found that he could hardly control himself, thus inflated his BCD helping him to get off the bottom. The support divers in the shallow waters caught him, but it was too difficult to help him deflate the BCD. The ascent was too fast and a series of decompression obligations were forfeited. However Mark, with incredible fitness and willpower, changed tanks at the surface and descended to 30 meters. After 3 hours of decompression he managed to surface without any signs of decompression.
Nowadays, deep air dives have gradually dropped out from mainstream practices due to the progress of diving science, philosophy and divers' attitudes. It is not worthwhile anymore to challenge the proven theories and natural rules just for showing courage and willpower. But we appreciate the predecessors for their exploring spirit, expanding the boundaries where humans can reach.
On June 4, 2000, John Bennett again dived to 254 meters on Trimix. On November 6, 2001, he successfully set the world record of 308 meters dive on Trimix. It then took him more than a month to recover from the duration and consequences of the dive.
Plan for Deep Dive in Canyons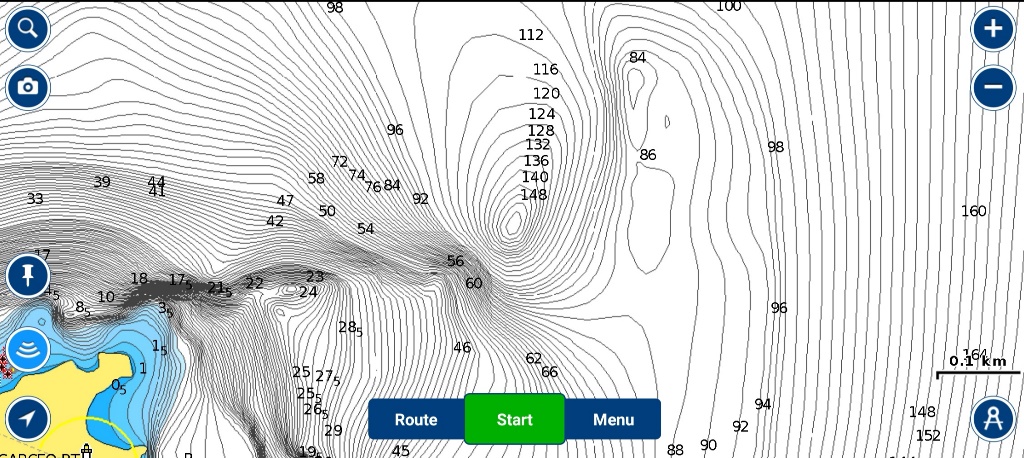 About 10 years ago, as a novice diver, I made my first trip to Canyons following a local dive guide. In the strong current, I struggled to hold on to a rock. My narcosis level was increased due to stress and overexertion. My mind was reeling, but at the same time I was struck by the beauty in front of me. Bubbles formations were torn apart in the current and sucked down into the depths… The dark abyss was close at hand.  I was filled with fear and excitement: "What kind of world would it be if I gave up struggling and fell into the darkness and flowed with the current all the way down, down to the bottom". This question has stuck me all those years.
It has been eight years since I became a full-time diving instructor in Puerto Galera. The dive centers I work for, both Tech Asia and Asia Divers, have provided me with a world-class training condition, and plenty of opportunities to practice deep diving. The right time and the right place finally gave me the chance to fulfill a dream I had ten years ago——to explore the bottom of Canyons.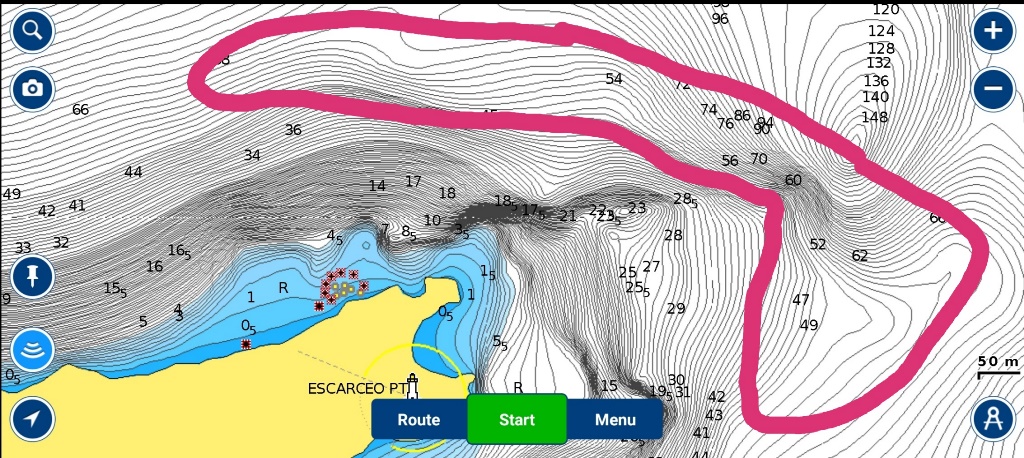 From September to November 2019, Aaron Gillespie and I conducted a series of exploratory dives in the deep areas around Canyons with rebreathers and DPV's (scooters). Due to strong currents and complex topography, many cases of missing divers or casualties occurred in this area. Even technical divers and technical dive instructors residing in Puerto Galera rarely set foot here. In order to safely and successfully complete our exploring objective, we took advantage of the dive shops we work for, and practiced for about 30 to 40 hours to get prepared for the task at hand, including equipment maintenance and calibration to prevent potential hazards, buoyancy control fully equipped, multiple bailout cylinder rotation, scooter configuration with rebreathers and several cylinders, advanced tow with scooters , low visibility and night dives, strong currents, and various kinds emergency response to equipment failure.
The ridge in the center of the image above, between 23 and 30 meters, is an area frequently visited by recreational divers. The current flows all the way down the ridge to the bottom. The red circle is the approximate area we explored during our five deep dives.
Dive logs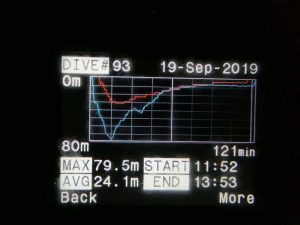 September 19, 80 meters, 121 minutes.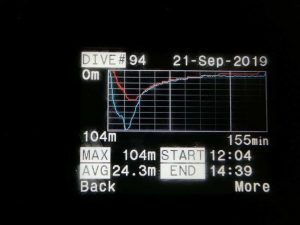 September 21, 104 meters, 154 minutes. We descended along the Josh's Wall to explore the way to the basin of the Canyons, and to become more familiar with the surrounding terrain and current trends. We scanned Josh's Wall and its surrounding area, and took it as a place for training in these two dives. Josh's Wall is a deeper area outside Canyons and Fishbowl, discovered 1996 when John Bennett and Aaron were preparing for the 122 meters dive. They used to dive on air to around 100 meters in this area and also Deep Dave's rock every the other day to improve their nitrogen tolerance. After months of training, John named this site after his first born Josh.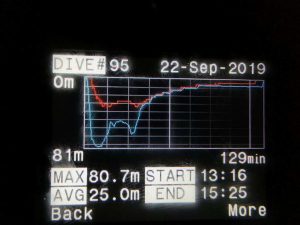 September 22, 81 meters, 129 minutes. Descending at Wreck Point, we scootered east, covering large distances towards our target destination looking for formations and other entry points to the pit.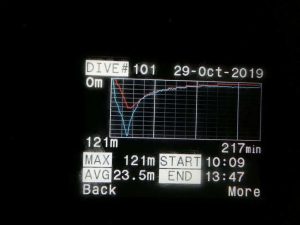 October 29, 120 meters, 217 minutes. We again reached the edge of the pit, and explored a wider range of surrounding area with scooters.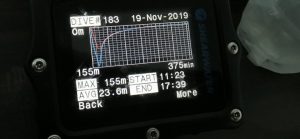 On 19 November, it was sunny and the current was mild, providing ideal weather and water conditions for our deep dive. We dived to 155 meters (temperature 15℃), with 20 minutes bottom time, and 375 minutes total time.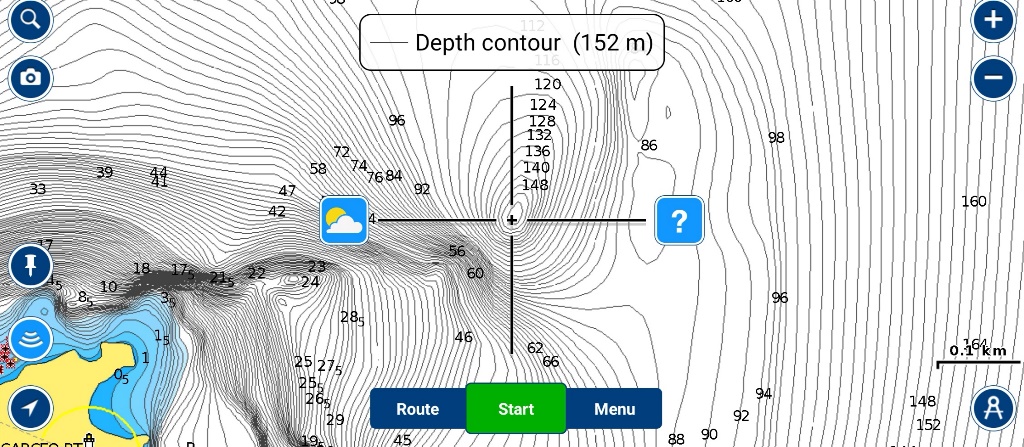 We reached the bottom of the basin along the walls and steps.  The sea of great depth was filled with darkness, serenity, and desolation. Time seemed to stand still. This was the first time for humans to arrive here. We were sober and agile, thanks to the high percentage of helium and low temperature of the water. We had to remain alert every second to adhere to the dive plan, the route, water flow, our physiological and mental state, condition of the equipment, gas consumption and each other… Meanwhile, we could not help but imagine about what we may encounter at any coming moment. Will it be some strange fish, Giant sea fans, walls, large marine animals or perhaps traces of the missing divers that have yet to be recovered.
The area in the center of the cross showing above is the bottom of deep Canyons, measured at 155 meters, three meters deeper than the provided charts. The bottom is about the size of a football field, mostly sandy, with a few boulders and cascading cliffs, strong currents, large sea wolves, jack shoals, and crabs. As the first divers to reach the crater, we named this new dive site "Aaron's Asshole."
Main equipment
Closed circuit rebreather: JJ CCR, Megalodon CCR
Regulators: Scubapro MK25, Halcyon H75, Akuana F1, Apeks DS4, Apeks XTX200
Dry suit: Navyfel Explore
Primary lights: Akuana, Orca Torch D630
Back-up lights: 3QRS
Video lamp: Scubalamp V6K Pro
Diving computers: ISC 2.7 APECs, Shearwater Petral, Shearwater SA
Scooters: Suex VR, Suex XJ37, Suex XJ14
We applied some equipment from emerging brands and found them to be of really good quality, including Akuana's primary light for tech dive, regulator, CCR wing, and titanium plate and D-ring; Navyfel's drysuit, Orca Torch  D630 primary light, Scubalamp's V6K Pro video lamp, 3QRS' back-up light. All the products have functioned well and been reliable in deep and long decompression dives. Thanks for the support from those manufacturers. We believed that there will be more excellent manufactures in the future providing reliable and also economical products for exploratory diving activities.
Postscript
I was often been asked by some divers, "what can I see in a deep dive?"
For me, it not a matter of what to see, but enjoying the dive itself. To achieve a goal, a tech diver must go thought tons of repetitive practices, endure the loneliness that others cannot understand, calculate, plan and execute accurately each step. Any slightest fault of physical or mental evaluation, equipment, calculation or other aspects is not affordable in this type of diving. The price may be an injury or fatality. The process of pursuing extreme perfection is attractive enough for me.
Many years ago, limited by finds in decompression sickness, diving computer, and open circuit system, deep dives were mostly restricted to wall dives, or using ropes as reference, with short bottom times. Many people were aiming for a record depth. Today, with the advance of science and technology, the progress of equipment, diving medical science and decompression theories, divers no longer challenge the limit for showing strength and courage. We can easily use scooters and rebreathers to extend the bottom time, reach greater depth, and explore for longer distance. Of course, we also have to face the new potential risks those equipments bring about. In addition, latest cameras and waterproof shells for great depth allow us to record the dives with clearer images and videos. We can enjoy the pleasure of exploration, rather than just pursuing the number of depth.
For exploratory tech dive, some people think it is too dangerous, even life risking. It does not have to be so. In fact, divers must meet the requirement of knowledge acquisition, diving experience, and training hours to go through each level before conducting a seemingly "dangerous" dive. Risks are quite manageable if a diver keeps learning and practicing with patience. The 100 meter dive course is conducted as a fully-developed course in many diving organizations. If a diver develops his/her skills step by step down-to-earth, he/she can reach 100 meters with confidence just as an advanced open water diver reaches 30 meters. Except for a more complicated diving process and some new skills, there is no big difference. Diving to 100m without training, equipment or experience is totally unnecessary and inviting trouble.
Some take exploratory diving as pushing the envelope and conquering the ocean. To be honest, human beings are quite insignificant while facing the nature, as a grain of sand facing the desert. Those who talk about "conquering" can only show their ignorance.
There are some others saying that "deep, wrecks, and caves are my goals." Having an objective, of course, is a good thing. But, first, one should have a rational understanding of his own ability and experience, and then keep training with patience, improve the skills, update the knowledges, to get fully prepared for the goal. We never encourage dives to a depth or a complex environment beyond what was taught in the courses. But if you feel ready, and aware of the risks and consequences, it is feasible to conduct an exploratory dive with a reliable team. Just keep in mind that do not be mislead by the fever that deep, cave, or wreck creates on social media, and set and pursue unreal objectives prematurely.
A fact easily overlooked is that a successful deep dive, or a wreck or cave exploration begins hundreds of hours in advance. It includes education of various stages, accumulation of diving and teamwork experience, acquisition of up-to-date knowledge, and even lessons from the failures. A diver who has not been through pressure, tears, or even injury will not go further with courage and luck alone. Regardless if it's a recreational or technical dive, whether you come back safely may not matter to others, but only to your parents and the one who really love you. For those who truly care about you, it is worthwhile to pay more effort and time to improve your capacity.
The most important and valuable stage for all divers is the open water (OW) course. More than 95% of diving accidents can be avoided, prevented or solved if we take the OW course seriously. Many tragedies, in fact, begins since the first choice of a cheap and fast tracked OW course.
The most important and valuable course for a tech diver is the introductory course to tech dive (such as TDI Intro to Tech, GUE Fundamental, WUD Rec 1/2). Most tech diving accidents, in the end, are caused by lack of practicing of basic skills, up-to-date knowledge, right concepts, rigorous attitudes, or a calm state of mind, which a diver should have got from a basic course of tech dive.
It is easier to train the skills than the brains. As the times progress, we can draw valuable experience from predecessors, improve our skills through scientific trainings, access to countless information on the Internet, so that avoiding detours and saving plenty of time of learning theories and skills compared to the divers 20 years ago. But the efforts to grow into a qualified exploring diver, to keep evolving, to understand others, to develop mature mindsets, to recognize and control emotions, and to travel and open up minds, will not shrink regardless of the progress of science. Seeking for instant success will be absolutely fatal in this kind of diving. To be patient and plow ahead one step at a time in an impetuous society is the most valuable character of a tech diver.
To quote Edward Whymper, a famous mountaineer in the 1860s, "Climb if you will, but remember that courage and strength are nought without prudence, and that a momentary negligence may destroy the happiness of a lifetime. Do nothing in haste; look well to each step; and from the beginning think what may be the end."
Slow down and enjoy your journey, young fella.