The week of diving begins for Kamala Shadduck and her group from SingleDivers.com. SingleDivers.com is the world's only provider of group trips designed for single or "married but buddyless" divers.
They are a travel company NOT a dating site "Our Hookups are to Tanks". We're very happy to have Kamala back with us again!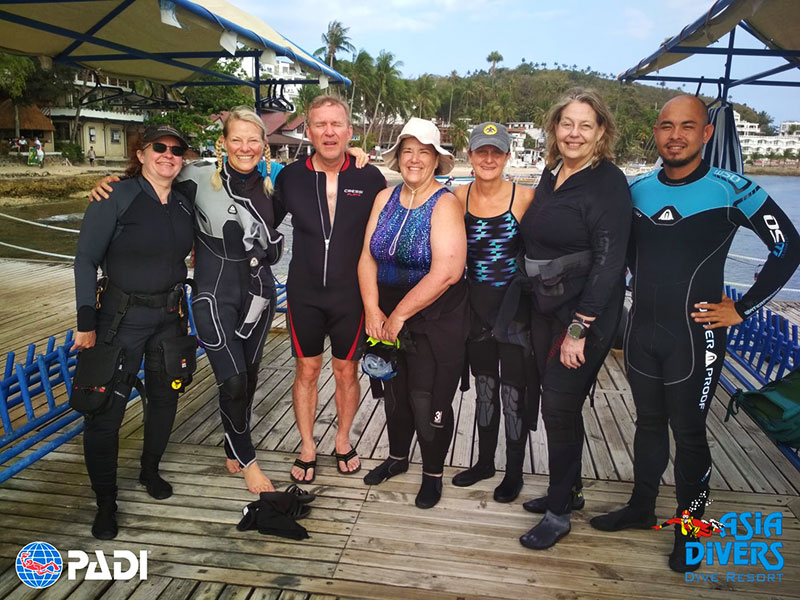 Back in Black!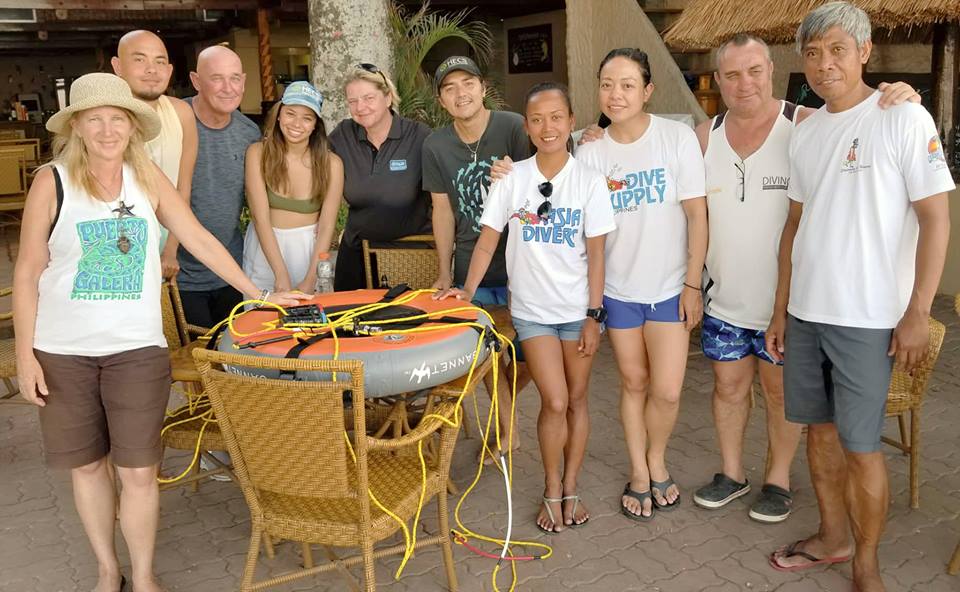 We all had those amazing two Blackwater dives with Scott "Gutsy" Tuason, Vanessa  Vergara and Bryan Nazareno  from Squires Bingham Sports and learned lots about how to do them, set up the dives, and what sort of really cool creatures we might be able to see.
It really did blow us all away with what there is out there in the black. We now have all of the equipment needed to do them and are trained on how to look after our divers who are doing them, so give us a shout if you want try it out!
Check out these cool photos taken on the dives by Gutsy
If you want to see some more amazing Blackwater photos by Gutsy, Mike Bartick and several other amazing blackwater photographers check out "BLACK IS THE NEW BLUE (Vol 2)". It will be launched at ADEX and books are available for sale at Squires Bingham Sports BGC Taguig.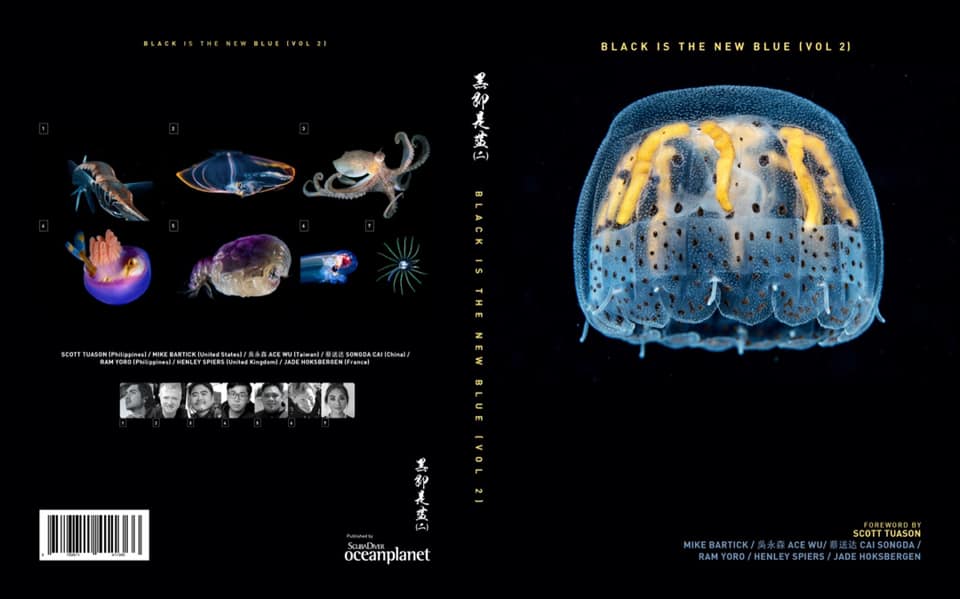 What's been happening at Asia Divers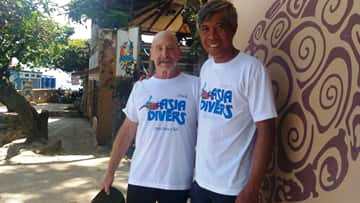 Congratulations to Chuck Dreyfus for earning this very special T-shirt! 2500 dives is a huge amount of dives and a lot of them have been here with us.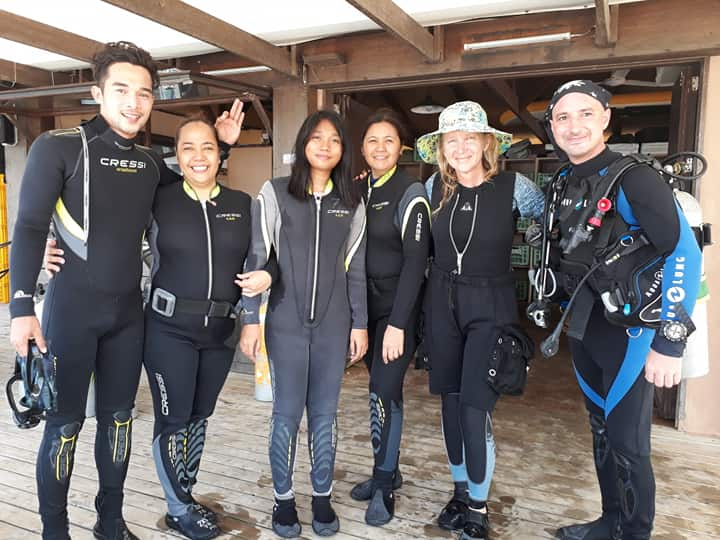 Alli did a "Discover Scuba" with Laila and Sherly who both work for El Galleon/Asia Divers. Both ladies enjoyed the experience very much and would love to do it again. It's important for us to get as many of our staff trying diving so they can appreciate why people come half way around the world to dive in Puerto Galera.
Thanks to Matt and Cody who came along on the dive to help out and take photos and to Ariana for joining in for the dive. It was a great time for all!
Tommy on Tour
Tommy and Leary are doing their annual school holiday trip (father and son bonding). After having spent two days in Perth to do the final work on the bike and get some maps for the planning of the trip they set off last Friday morning together with Tommy's friend Crew Chief Mark who is looking after Tommy's bike in Perth.
Exploring the southwest of the West Australia state with all the forest and small towns. Feeding Kangaroos and Emu's, climbing a 53 meter tall Karri tree and wandering around amongst the treetops in Valley of the Giants. Met up with Allan Nash's brother, Graham in Albany last Saturday. Tommy and Leary joined Graham to Esperance while Mark went home to Perth to face a week at the office.
E-IDC update
Alma Jane Night Dive for Carsten's 300th dive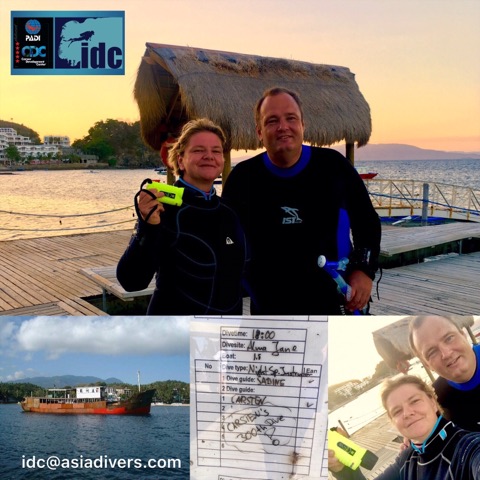 Congratulations to Carsten on his 300th Dive!!! And we picked a special place for it: Alma Jane at Night !
What a great dive- so much to see and also a lot of fun with the lights out pop dance quiz during ascent.
That's all for this week folks! Catch up with us next week for another installment of the Asia Divers Blog
[block id="blog-follow"]