Last September Larry and Kris Bird had their wedding celebration here at el Galleon and had asked guests not to buy gifts for them, but instead to make a donation to go towards a helping the kids at a local school.  Last week it all came together and Rhuby and Alli went to two schools, both in need of help. One school was in Puerto Galera, one a bit further away towards Calapan. The first school was a mix of kids Tagalog, Muslim and Mangyan.  They were having their Christmas party on that day and we're excited that we could be there to join them.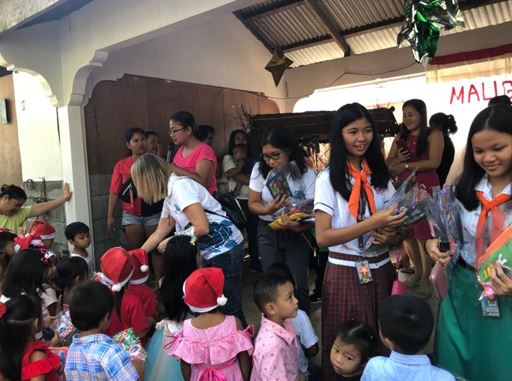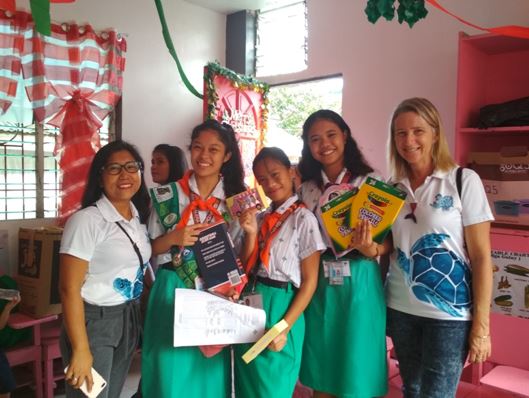 We gave the 80 school kids a personal hygiene kit which had toothbrush, toothpaste, soap, and towel. This is something that was requested by their teacher and principal as many of them don't have these. We also had pencils, markers, a few small toys, a world map learning activity toy and some school materials for the kids. There were lots happy faces there that day!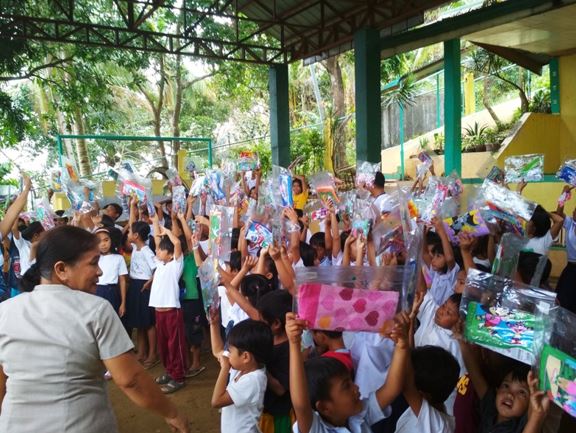 The second school we went to further away was really in need of even more help. This is a school with kids who are Mangyon and Tagalog, but all quite poor. We gave each of the 110 students personal hygiene kits, plus 2 big sacks of rice which will be enough to give them food for one month at the school. Along with that, we donated two big buckets of paint and the rollers, brushes so their classrooms can be painted and also a bunch of pens for older kids.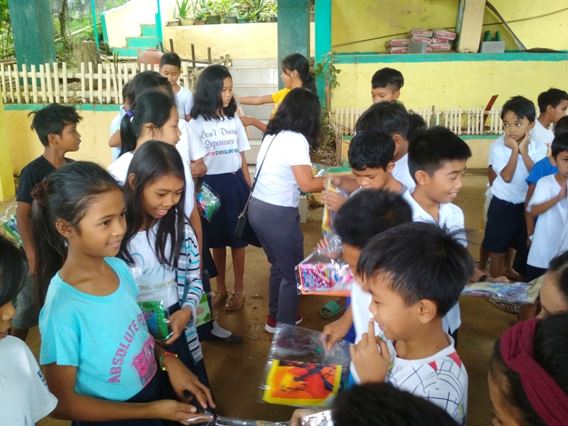 We explained to them about who was responsible for this donation and they were all so appreciative and said thank you so much. It was really a touching experience and we're happy to have been a part of it. Thank you to Larry and Kris for making this happen
If you're interested in learning more about the Mangyans of Mindoro please see these links:
https://www.jacobimages.com/2012/12/the-mangyan-of-mindoro
http://www.mangyan.org/book/export/html/60
Mindoro Mangyans
Mindoro is the seventh largest island in the Philippines, with an area of 10,224 square kilometers and two provinces – Oriental and Occidental. Of the total population of one million, the indigenous population is estimated at 100,000.
Mangyan is the collective name for the eight indigenous groups living in Mindoro, each with its own name, language, and set of customs:
There are 8 different Mangyan groups (Iraya, Alangan, Tadyawan, Tau-buid, Bangon, Buhid, Hanunoo and Ratagnon) on the island of Mindoro and all are distinctively different including their languages. Mangyan is just the collective term used for the indigenous peoples found on Mindoro.
Something unique to the indigenous Mangyan of Mindoro is how well organized their groups are. All eight groups have active tribal councils and they are very strict about what visitors can enter their communities.  Each group also has formal bylaws with penalties for different crimes that are committed.
Most families spend a lot of their time collecting crops in their fields. The Mangyan must have land to plant crops in order to survive. This is their main food source. However, many families are now growing larger tracks of produce that they harvest and sell to lowlanders as well. The Mangyan are very much against mining and any mining activities on their ancestral domain.
Every opening of the school year, the spotlight is focused on the public school system's lack of classrooms, books and toilets. Often though, the spotlight misses the school situation of indigenous children. For children of the Mangyan, an indigenous people's group comprising seven linguistic tribes in Mindoro, school opening is marked by an even more basic set of problem — they do not have schools nearby.
If the lack of classrooms afflicts ordinary Filipino children, Mangyan children who live in far-flung areas frequently do not have formal schools at all, resulting in a far worse illiteracy incidence among the Mangyan. This, in turn, leads to the tribe's further marginalization.