Whether you want to try diving for the first time or plan on diversifying your dive skills, taking a course in Puerto Galera, Philippines, will be one of your best choices.
Why Take a Diving Course in Puerto Galera?
Puerto Galera offers dive sites that sit directly on the Coral Triangle. Particularly in the Philippines, between several islands off the coast of Oriental Mindoro and the Verde Island Channel, the highlighted zone is home to some of the world's most diverse species of corals, reefs, and pelagic species.
If you take a diving course in Puerto Galera, you will be blessed with amazing sights as you train and refine your dive skills.
Dive Courses You Can Take in Puerto Galera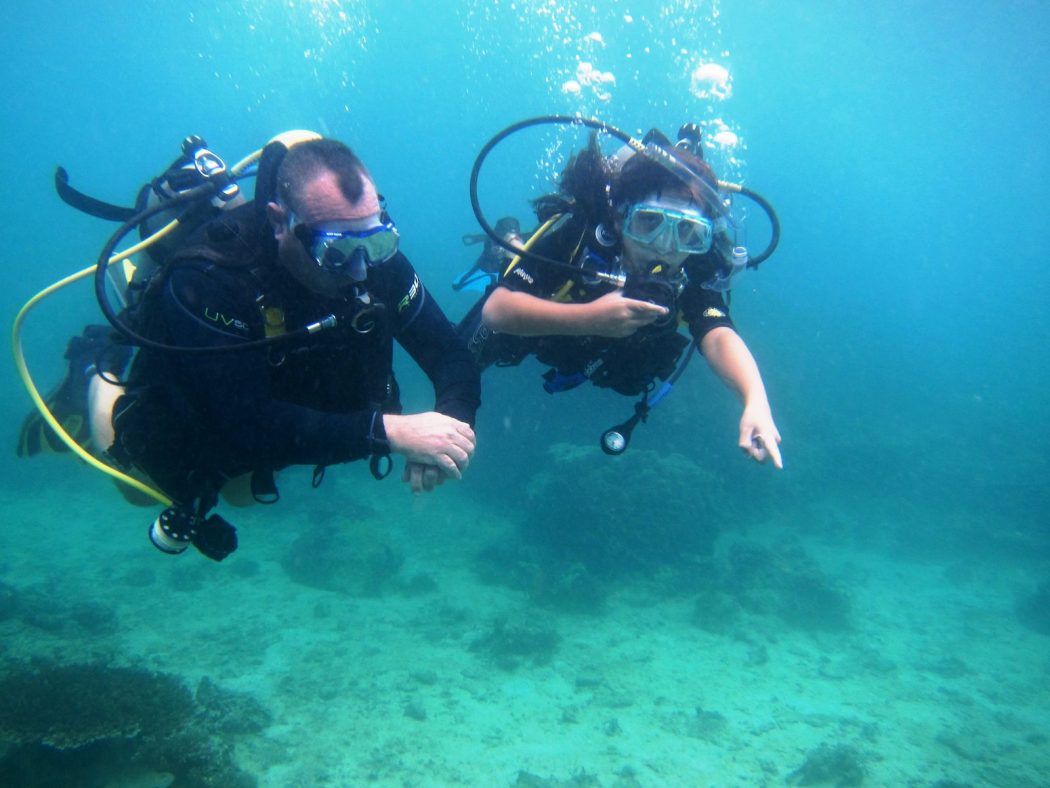 As long as you visit a certified dive center, you will receive proper training according to the Professional Association of Diving Instructors guidelines (PADI). This means you get to learn from a wide variety of diving courses.
In general, PADI courses are divided into three broad categories:
Recreational courses – for beginners
Specialty courses – for intermediate to advanced divers
Technical courses – for advanced divers
Recreational Courses
A variety of courses for children and beginners can be found in our PADI Recreational Courses offers. Children as young as eight years old can already participate in PADI courses such as Skin Diver and Bubble Maker. Skin Diver teaches children to hold their breath longer underwater while Bubble Maker instructs them how to breathe through the mouthpiece.
For the adults who have never tried diving before, PADI Discover Scuba Diving offers a chance to scuba dive without a certificate. Starting from absolute zero, an instructor will teach you to scuba dive in one single day.
The PADI Open Water course is the elementary school of scuba diving, which opens up to a greater possibility of diving independently and diversifying skills.
Specialty Courses
Children from the age of twelve can already begin their diving career after graduating from the PADI Advanced Open Water, which comes after the PADI Open Water course. While you can scuba dive to a certain depth with an Open Water certification, many Adventure Divers and Specialty Courses challenge you to dive deeper and in more advanced situations.
This is where an Advanced Open Water certification is required to continue your diving education – it's the high school of diving, so to speak. Afterward, you can begin to diversify your diving skills. Be sure to check out our Specialty course offers.
The list below shows you some of the possibilities when learning with Asia Divers.
Intro to Nitrox and Enriched Air Nitrox – Dive longer with this special mix of air.
Peak Performance Buoyancy Diver – A crucial skill for underwater photography.
Drift Diver – Learn to control buoyancy and navigation under currents.
Deep Diver – Dive up to 40 meters deep.
Naturalist Diver – Learn the names and shapes of hundreds of underwater species.
Dive Against Debris – Campaign against oceanic pollution by diving responsibly.
Equipment Specialist – Be an expert of your equipment.
Multilevel Diver – Learn to scale a sea wall.
PADI Digital Underwater Photography – Take photos of the underwater world.
PADI Night Diving – Witness what lurks underwater at night.
PADI Navigation Diver – Learn to navigate underwater.
Dive With Us in Puerto Galera
Puerto Galera offers amazing seascapes and sightings that complement your dive training. Build a solid groundwork with our instructors at Asia Divers. Our policy is to encourage learners to take their time and never to take a single shortcut to complete the training.
If you have any inquiries, please send us a word!