There are thousands of dive centers around the world, but not all of them are located in the most strategic places, like a beachfront in Puerto Galera. You can find some in city centers, which will then take you on a long trip just to reach the dive site.
The waiting doesn't stop there – quite a few dive centers are not even prepared to provide their own boats, so they have to rely on local services to take the group to the exact spot you'll be diving.
In such a case, you spend more time on the road and waiting for boats, and spend less time in the water – two hours during two dives in a day, to be exact.
Find a Dive Center Near the Beachfront, and You Won't Need to Wait Any Longer!
A beachfront dive center in Puerto Galera is the absolute best because it provides at least one of three things:
The best services for diving, far more than what a regular diving agency can offer,
Unimaginable conveniences, such as equipment storage and in-house technicians,
A resort, which is comfortable to stay at!
 Luckily, Asia Divers has all three waiting for you in the Philipines.
Find the Best Service For Your Scuba Diving Needs Here
One major plus point for service in a beachfront dive center is quick access to the water. Whether you are a beginner or an expert at scuba diving, you are only a stone's throw away from the water.
But wait, there's more!
Did you know that Puerto Galera stands on one of the most diverse coral-rich regions on the planet? The area between Puerto Galera and the Verde Islands is home to vibrant and giant Gorgonian sea fans, sea snakes, crustaceans, manta rays, and tens of thousands of reef species waiting to be discovered by you.
All dive courses in Asia Divers are standardized to follow PADI guidelines. Scuba diving can be a challenge to learn, so we make sure that you receive the best instructions and plenty of time to practice – hence another advantage of staying in a dive resort close to the sea!
Earn your PADI Open Water certificate with us and learn more with our PADI Advanced Open Water and the PADI Specialty courses.
Conveniences of a Top Diving Center That You'll Take for Granted
Scuba diving used to be reserved for the ocean lovers who wouldn't mind going through a few inconveniences. However, scuba diving is becoming cheaper and more available to everyone. That means we'll do our best to make sure that everyone is comfortable with scuba diving and other aquatic activities.
We consider the little things. For instance, we have a dedicated camera room for underwater photographers. We understand that underwater photography is a skill that takes tons of practice. It would help to get faster feedback on your photography quality by processing the films once you reach land.
We also have our own boats and even a private dock, ensuring that the only time you touch the water is when going underwater. The private dock also mitigates the unnecessary risk of injury during low tide when boats can't get close enough to the shore, and guests have to tread carefully over rocky surfaces.
Comfortable Rooms to Replenish Your Energy For the Next Dives!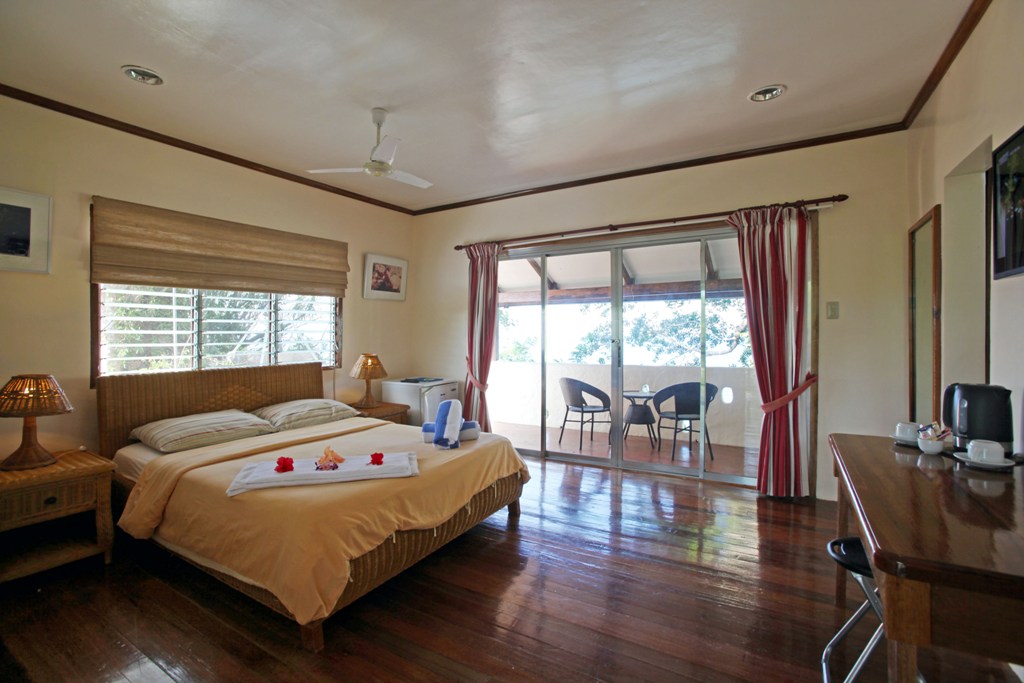 El Galleon is a dive resort part of Asia Divers. We figured that since you're already in Puerto Galera, The Philippines, it would be great service to offer you a comfortable resort-style accommodation so you won't have to travel elsewhere to sleep and relax!
We have five types of rooms. The Seaview Room is one of our most popular rooms with a pleasant view of, you guessed it correctly, the idyllic seascape. For those who are not early morning risers, we still recommend that you try waking up early one day and admire the glorious sunrise from beyond the horizon right in front of your balcony.
The Family Rooms are built for families with various interests. Of course, for the land-lovers, there are plenty of activities and natural places to appreciate in Oriental Mindoro. Our family-friendly services, like organized tours and even a beach BBQ, ensure that everyone can share a wonderful time in The Philipines.
Visit Puerto Galera for a Holiday of a Lifetime
What makes a beachfront dive center such a great place are the extensive dive services, conveniences, and the comforts of a resort. Be sure to check out our room offers, activities, and scuba diving courses here!