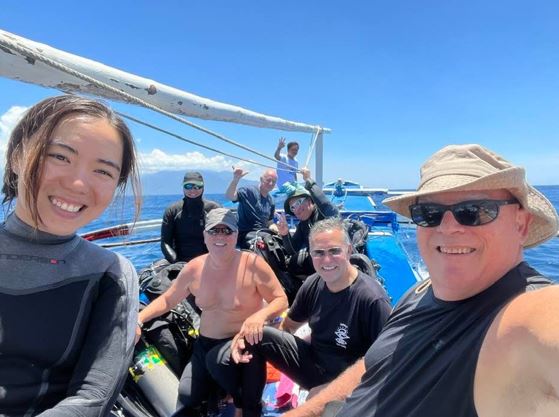 Very happy divers after two dives at Verde Island! Great shot Robin Chew.
Experts have called The Verde Island Passage the "centre of the centre" of the world's marine biodiversity. Life enhancing nutrients from the Pacific mix with waters of the South China Sea. You would never guess that beneath the surface are spectacular reef formations with more than 300 species of corals and underwater rock canyons that host nearly 60 percent of the world's known shorefish species.
The Verde Island passage is situated between the islands of Luzon and Mindoro. A trip to Puerto Galera is not complete with at least one visit to Verde Island. You can get there in 40 minutes by bangka, which is a local outrigger boat, or 20 minutes by speedboat.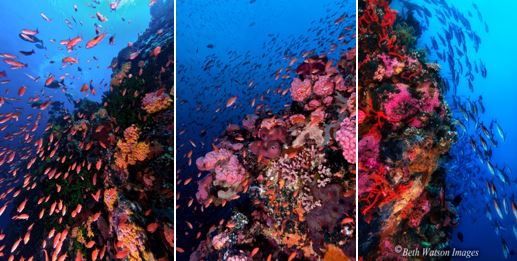 Gorgeous colours of Verde Island. Photos by Beth Watson
The best and most well known dive site is the "Verde Island Drop off" or "San Agapito" about 300 meters off shore. Approaching the dive site you are greeted by the rough tips of pinnacles breaking the surface. From the surface it doesn't look like much, but as soon as you drop in, you'll see that these pinnacles are like the icing on top of large colourful birthday cake.
The Drop Off can be described best as steep slopes with stunning vertical walls that drop down to 70 meters or more. Beautiful gorgonian fans, basket sponges and anemones nestle in and make their home here. Numerous nooks and crannies are home to all sorts of reef life including shrimps, sea snakes, scorpion fish and moray eels. Volcanic bubbles rise up through the corals and create a magical effect. Anthias and red-tooth triggerfish are so abundant that I tell people that there are so many fish on the pinnacle that they'll have to push them aside to see the reef.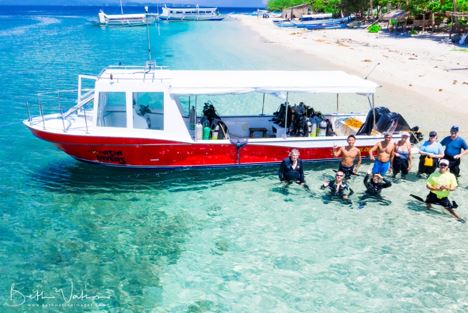 Surface interval on Verde.
This is one of those dives sites that you can happily use a wide-angle lens or a macro lens and come away with great shots. Since Puerto Galera is known so widely for its macro I sometimes encourage the photographers to pull out their wide-angle lens for a day on Verde to take advantage of the spectacular pinnacles and beautiful gorgonian sea fans. These teamed up with the colourful anemones and reef fishes make an excellent backdrop and are a great area to shoot wide angle. Nudibranches are plentiful and you're bound to see a gnarly scorpion fish or two, so a macro lens will come in good use as well.
The currents on Verde can be tricky, but going with an experienced guide you can safely manage them. The key is to stay tight to the pinnacle and not get pushed over deep water into the strong currents. As you approach "the corner" you can feel the current pushing in your face, so you can make a decision of what to do next. With an experienced group I like to get on to the corner and "watch the show". This where you have the best chance to see many of the larger fishes including schooling jacks, sweetlips, tuna and snapper all dancing in the current. I love to be in the mix of this, but if my group is less experienced I can turn around and miss this corner and keep everyone out of the current.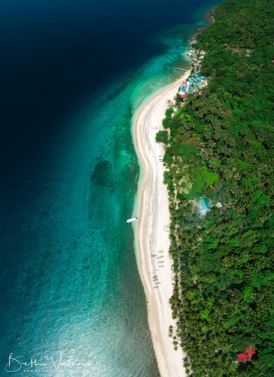 Treasure hunting….
A Spanish galleon, the Nuestra Senora dela Vida, which sank in 1620, was discovered in the late seventies just off Verde Island. Unfortunately it was heavily salvaged in the 70's and 80's and nothing remains of the wreck except for a few pieces of porcelain. The larger plates and terracotta jars are now long gone. I like to take my divers "treasure hunting" for these little pieces of porcelain during their surface interval. If you walk along the beachfront and look in the sand you can be sure to find a few pieces wash ashore. It's a nice little souvenir to go home with.
A day trip to Verde Island is a great experience for our guests. They get to dive on a spectacular dive site with prolific fish life, learn a bit of local history and combine this with a beach barbeque you'll have a lot of happy people.