Thanks to Yvette Lee of Discovery Fleet, for the below photos and also this gorgeous photo of Dee in the Canyons.  We we're all very excited to have this group of eight here for 5 diving days over the holidays. Dive conditions in Puerto Galera have been superb and they also got in a day of diving at Verde Island.
According to them and everyone else who has been here during the past few weeks, the trip to Puerto Galera is seamless, only 2 hours to Berberabe Port, 25 min Speedboat ride to Puerto Galera and then the boat drops off all our guests off at our private pier at Asia Divers in Small lalaguna. They were diving by 13:30 pm!Contact us to make your escape from the city…we can organize everything for you to get here easily!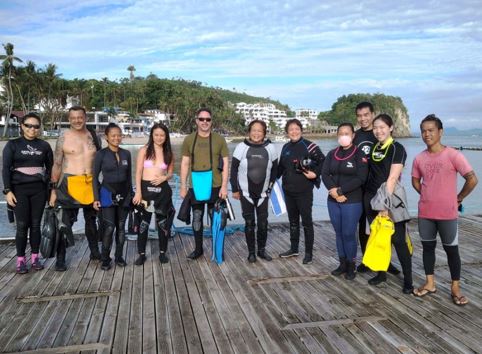 Karen Chan, Davidson Huang, Brittany Kaw, Regine Tan, Maria Teresa Robles, Yvette Lee, Edna Decastro, and Drew Weiner enjoying their stay at El Galleon Resort and Asia Divers in Puerto Galera.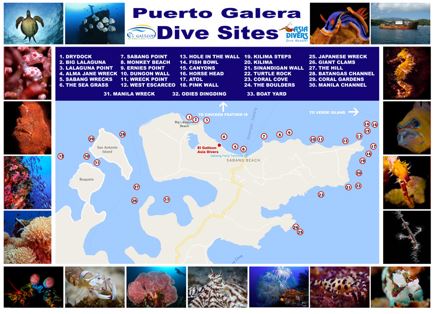 Most of Puerto Galera's dive sites are only 5-10 minutes away from the resort
Check out more of Yvette's photos below: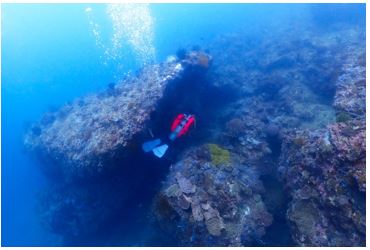 The Boulders is one of my favorite dives sites. The whole area is covered with huge boulders of different shapes and sizes to give you some very interesting topography. At depth is the place to look for seahorses, ghost pipefishes, and sea moths. Afterwards, you wind your way up to shallow depths amongst the rocks. A resident school of snapper will escort you through the site with lots of whip corals, many fishes, bubble corals, sea fans, sponges, and perhaps even a ribbon eel. Beautiful soft corals up in the shallows make this a very picturesque dive.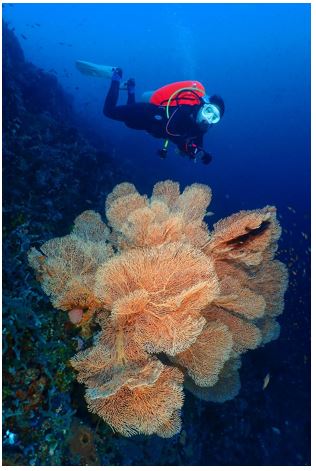 Just look at the healthy sea fans at Verde Island Drop Off. Only twenty-five minutes away by Asia Divers speedboat, it makes a fantastic day trip! Pinnacles break the surface on the East side of Verde Island and drop away to great depths. The Drop Off is a gorgeous vertical reef with some beautiful gorgonian fans, sea snakes, frogfish and some large pelagic schools.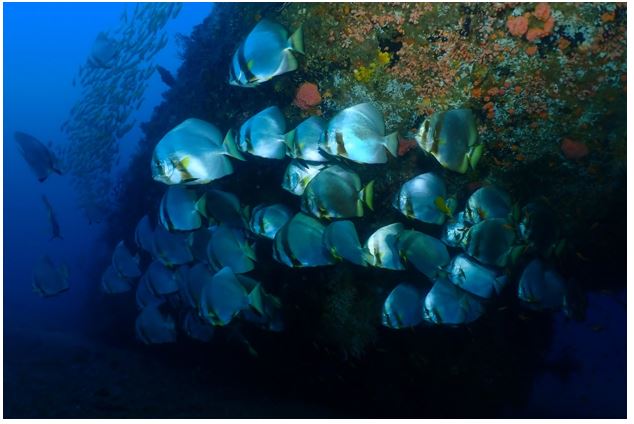 There are lots of Batfish in the stern area of Alma Jane Wreck. This popular PG wreck is right off the end of our pier! It's a 30m steel hull and wooden cargo vessel which was sunk in March 2003 and has turned into a fantastic dive site with great fish life. It sits in 30m of water and is a perfect training site for different courses such as nitrox, wreck, and deep specialties. Sweet lips, snapper, batfish, jacks, lionfish, boxfish, and rabbit fish have taken to the wreck.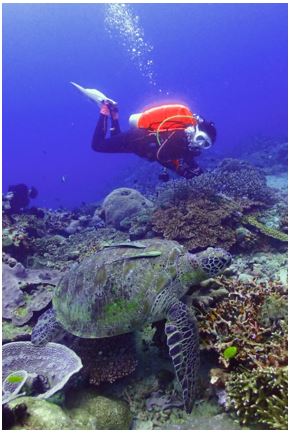 Fantasy Reef is a very pretty reef dive just off of our pier! Lovely hard corals escort you all the way up to the shallows from an 18-20 meter depth. Turtles, snapper and lots of fish make it extra special.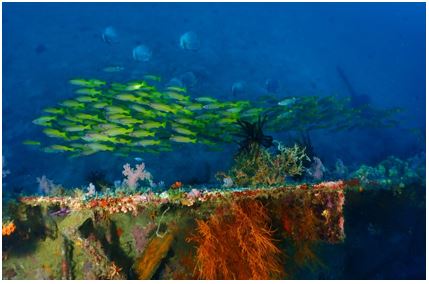 Yellow snappers at Alma Jane.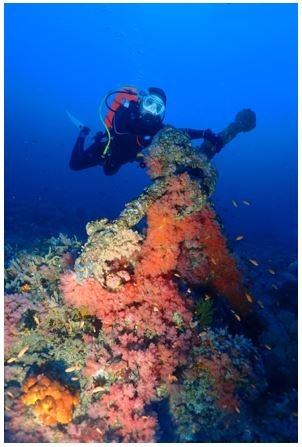 Elly at the Anchor after the 3rd canyon. This is one of Puerto Galera's signature dives. It is an exciting drift dive for experienced divers.  There are three drop-offs below the Hole in the Wall covered in soft corals and sponges. You can duck into the canyons for a break from the current. There is much to find on the bottom but primarily it is the large school of drummers, snapper, emperors, sweetlips, barracudas, jacks, and trevally that make this an exciting drift dive. The dive ends at a 1½m anchor embedded in the coral, where the group can gather before being swept off for a blue water assent to the safety stop in the current.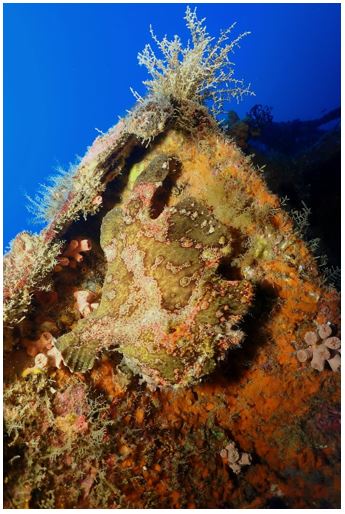 Resident Frogfish at Alma Jane.