It was great to see Carole Harris and Leon Betts back here after 3 long years.  Carole and Leon are both super spotters and this past two months here in PG they have had some great finds!
Carole and Leon, have been diving here regularly for 25 years and done more than 1700 dives in the Philippines (PG/Dumaguete/Anilao/Romblon). On this trip alone to Puerto Galera there was they saw around 168 species of nudibranches, of which, 21 were new/first time for them to see. They also noted that they saw 14 species here on this trip to PG that they have only seen somewhere else in the world before….but first time for here.
But we're not just about nudis of course! Also here in Puerto Galera Mindoro are gorgeous colourful healthy reefs teeming with lots of different fishes, sweetlips, jacks, tuna, bright anenomes, seahorses, cuttlefishes, frogfishes, octopus, eels, snakes, many types of shrimps, pipesfishes and a certain time of the years we often see thresher shark. We have diving for all levels and only a 5-10 minute boat ride away from the resort!
Here's a few of Carole and Leons  favorite finds from this past trip and Carole's comments and descriptions.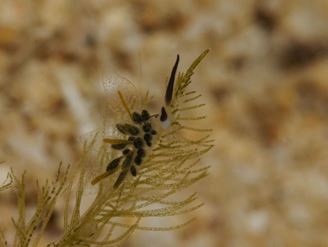 STILIGER SP. Only the long black rhinos gave this little one away, so incy wincy small, never even noticed that it had inflated cerata until I saw it on the computer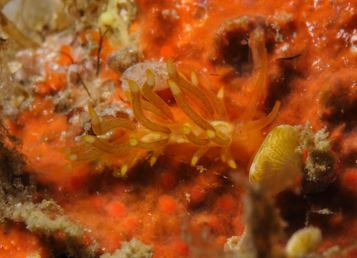 Maybe a Tenellia/Trinchesia or Phyllodesmium? An annoyingly incy wincy one, great find by Art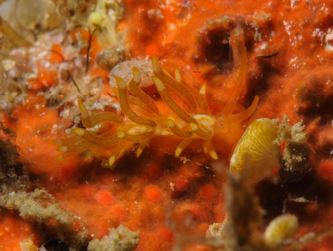 Maybe TERGIPOSACCA LONGICERATA?? Another very very cute incy wincy one. So difficult to ID when they are so small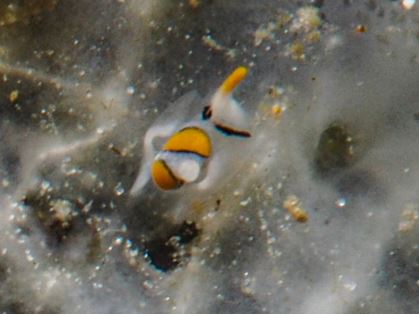 NOALDA SP. The "one that got away", I took a photo of a Chromodoris kalawakan nudi on this sponge and when I saw the photo on the computer, I noticed this incy incy incy wincy one in the corner! DRAT, wish I had seen it to attempt to get a better photo.. But a blur is OK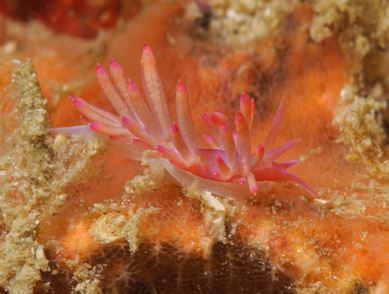 TENELLIA/TRINCHESIA SP. A very very cute incy wincy pinky one, great find by Leon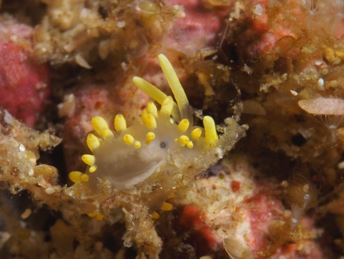 FLABELLINA SP. 9 NSSI2. Another incy incy wincy "dot" of a nudi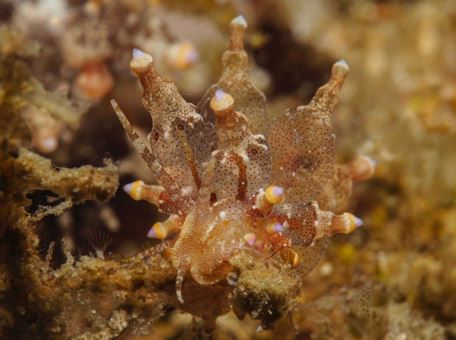 EUBRANCHUS SP. Of course another incy wincy one, so delicate and pretty, great find by Leon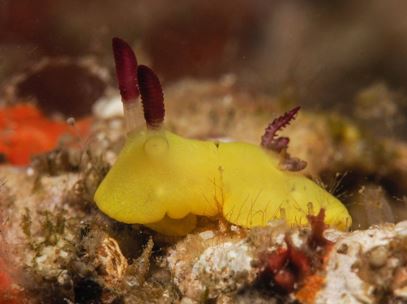 VERCONIA SP. First time to see this nudi, and we saw this a few times this trip, not such an incy wincy, maybe 0.75cm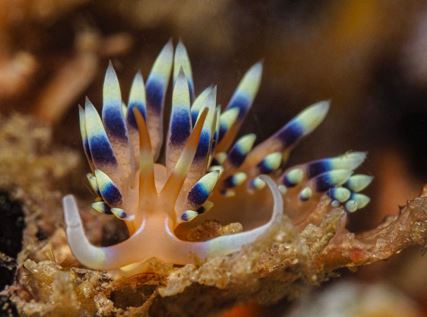 CALORIA INDICA. Although we've seen this sp. of nudi many times, this is another variation, different coloured body, different coloured cerata, and different coloured rhinos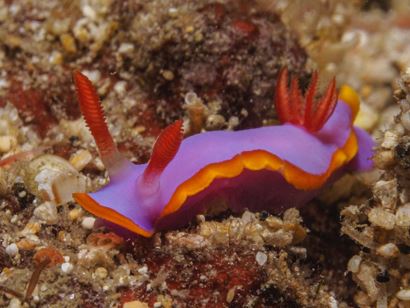 THORUNNA PURPUREOPEDIS. Another of my favourites, at least 1 cm, a great find by Eleanor Hui
El Galleon Resort/Asia Divers are an all year round dive resort with the sea normally moderate during December to May. Water temperature  December to March is around 23 to 27c. In March/April the water temp goes up to 28-30 and will stay warm until around November/December.
The Verde Island Passage Marine Corridor (VIP) is famously known as "the center of the center of marine biodiversity". It is the proverbial heart of the Coral Triangle. There are dives for all levels, from easy training dives amongst pristine coral to high-voltage drift dives, to muck and even wreck dives.   We are also only a 20 minute boat ride to Verde Island which is a world class dive site. Contact us for arranging your trip to paradise at admin@asiadivers.com